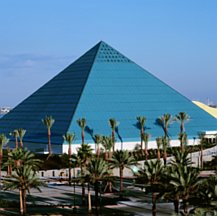 Moody Gardens began as an extraordinary vision to create an island tourist destination. It has grown to become one of the premier education and leisure facilities in the Southwest, with approximately two million visitors annually.
1986: Moody Gardens began as a horse barn with a riding arena that provided a hippotherapy riding program for people with head injuries. The Hope Arena convention center was established, which later expanded and became the Moody Gardens Convention Center.
1988: White Florida sand was brought across the Gulf of Mexico to create Palm Beach. Seaside Safari opened and is now The Learning Place, home of our educational programs.
1990: The production area opened, which included two greenhouses used to propagate most of the plants seen on the ground for our Medicinal Plant Program.
1993: The famous Rainforest Pyramid opened its doors, featuring over 1,700 exotic plant and animal species from all over the world. The Garden Restaurant also started serving delicious food to our customers this year, and America's first IMAX 3D Theater started showing films in the MG 3D Theater Complex.
1997: The Discovery Pyramid debuted with NASA-inspired exhibits.
1999: The family friendly accommodations and tranquil services of the Moody Gardens Hotel and Spa opened. The hotel is an architectural masterpiece featuring 428 rooms and over 22,000 square feet of flexible meeting space, dining, and a full service salon and spa. The 1.5 million-gallon Aquarium Pyramid opened as one of the largest aquariums in the world.
2004: The hotel gained a brand new 125-room wing, and the Exhibit Hall grew by 60,000 square feet.
2005: The 4D Special FX Theater opened, creating a totally new way to experience the movies.
2008: After a $16 million renovation to the Galveston Municipal Golf Course, the Moody Gardens Golf Course opened, becoming the premier golf course of Galveston.
2011: The Rainforest Pyramid and Palm Beach reopened after extensive enhancement projects, making Moody Gardens better than ever.
If you're looking for a fun place to visit on your family weekend getaways in Texas, don't skip the Moody Gardens. Our family friendly Moody Gardens Hotel gives you a luxurious place to rest your head at night, while the Moody Gardens Golf Course and attractions will keep the entire family entertained all day.