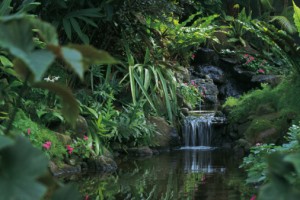 The Rainforest Pyramid, which opened in 1993, is a ten-story glass pyramid that recently underwent a massive enhancement project to make it better for both visitors and its animal and plant residents. The Rainforest Pyramid has shared the wonders of the Asian, African, and American rainforests with millions of visitors. It has also brought attention to the dangers rainforests are facing and the endangered species that inhabit them.
The popular Moody Gardens attraction is a great entertainment destination, but it is also the center point of Moody Gardens rainforest conservation efforts. Over the years, Moody Gardens has shown its dedication to saving the rainforest in a variety of ways.
In the last decade, Moody Gardens purchased 2,215 acres of rainforest in Panama for protected reserves. We have also collected over $69,000 for research and conservation in Central and South America to help preserve the diminishing rainforests in those regions.
Moody Gardens contributed to purchasing land in Peru to help complete the ReNuPeru Ethno Botanical Garden at the Amazon Center for Environmental Education and Research.
Other funds from Moody Gardens have been donated to support the Belizean Ministry of Natural Resources as they try to save the Mountain Pine Ridge Forests area from the devastation caused by a massive Pine Beatle infestation. We also contributed to the Rainforest Foundation to help indigenous people preserve their land from being taken over.
Moody Gardens contributes to helping save the rainforest through our animal programs and our research efforts. We stand by our mission: "Moody Gardens is a public, non-profit educational destination utilizing nature in the advancement of rehabilitation, conservation, recreation, and research."
To learn more about our rainforest conservation efforts, come visit our Rainforest Pyramid. You can make a trip out of your visit by staying with us at the Moody Gardens Hotel, one of the best places to stay in Galveston.