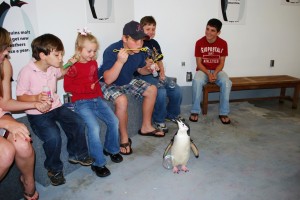 Experience the beauty of the North Pacific, South Pacific, South Atlantic, and Caribbean with a visit to the ten-story blue-glass aquarium building. This incredible attraction features 1.5 million gallons of water and more than ten thousand marine animals. The Aquarium Pyramid is divided into four regions, each representing a different area of the oceanic world.
Caribbean Exhibit
The Caribbean Exhibit is the largest of the four. It features sharks, sea turtles, eels, and thousands of beautiful tropical fish that swim overhead as you wander through an underwater tunnel. The tunnel completely surrounds guests and is filled with one million gallons of water.
South Atlantic Exhibit
The penguins of Moody Gardens reside in this area of the pyramid! The South Atlantic Exhibit is designed to closely resemble the rocky beaches of the South Georgia Islands. You can view the penguins from both above and below the surface. With our Penguin Encounter program you can even get up close with the penguin residents and take home some of their fabulous artwork.
North Pacific Exhibit
The furry seals reside in the North Pacific Exhibit. Watch as they play on the rocky shore and dive into the water. A few feet away, you can watch the sea urchins, anemones, and other colorful marine creatures in the tide pool. A kelp forest houses the rich and diverse underwater world representing Northern California to the Gulf of Alaska.
South Pacific Exhibit
Go on a journey through the depths of the Great Barrier Reef and Coral Sea! The South Pacific Exhibit features a tide pool with vibrant sea anemones and sea urchins. In the lower level, you can see more than 200 species of fish, stingrays, and sharks in their beautiful underwater environment.
New Exhibit: Sharks in Depth
The newest exhibit at the Moody Gardens explores shark fact versus fiction, shark anatomy, and shark behavior through hands-on activities. Learn how sharks survive, how they sense their pray, and what threats there are to the shark population. This exhibit is better than Shark Week! With an Aquarium Pyramid Shark Passport, you can learn to identify shark species from around the world.
If you're looking to plan your family weekend getaways in Texas, don't miss out on the Aquarium Pyramid at Moody Gardens. As part of our recent holiday offer, you will gain admission to the Aquarium Pyramid!