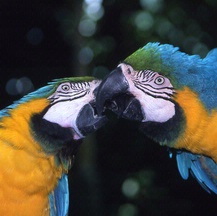 At the Moody Gardens Rainforest Pyramid, you can experience one of the most authentic rainforest recreations in the world. The ten-story glass pyramid features over one thousand exotic plants and animals from the rainforests of Africa, Asia, and the Americas. A recent $25 million enhancement project has improved the attraction, making it more realistic and bringing you closer than ever to a true rainforest experience.
As part of the enhancement project, a new walkway was built in the Rainforests of the World, which overlooks the endangered giant Amazon River otter exhibit. The unique walkway leads you into the pyramid at the canopy level. In the canopy level you can explore the rainforest from above, allowing you to get closer to the free-roaming tree-dwellers of the rainforest such as birds, sloths, white-faced saki monkeys, and cotton-top tamarins.
Featured in the canopy walkway is one of the most famous attractions in Moody Gardens: the butterfly exhibit. Several species of beautiful butterflies flutter around you as you wander through.
The next part of your journey takes you to the cloud forests, which are considered nature's water towers. Observe the colorful frogs and artifacts from people of the rainforest before heading down to the rainforest floor. The nocturnal exhibit on the rainforest floor is home to a prehensile-tailed porcupine, African palm civet, and other creatures that only venture out after dark.
On the rainforest floor you will also discover plants and animals from the Asian rainforest, such as the carnivorous pitcher plant, colorful orchids and fish, and two Chinese alligators.
The rainforests of Central and South America are filled with colorful macaws, a spotted ocelot, and a flowing waterfall! You can also learn about the smells and spices of rainforest food in the interactive exhibit. Tour the Mayan ruins, home to a giant anaconda, piranha, caiman lizards, and even vampire bats!
The final stop on your Rainforest Pyramid adventure is down the Africa trail where you can marvel at the spider plant, giant windowpane palm, and the dead rat tree. Don't worry; there aren't actually dead rats in the tree! On your way out, you'll be able to experience the ground-dwellers of the rainforest, including a Daramaland mole rat, Brazilian rainbow boa, and a cobalt blue tarantula!
Click here for ticket prices and more information.
Don't miss out on a visit to the Moody Gardens Rainforest Pyramid during your next family weekend getaway in Texas. Moody Gardens is the place to be for the best events in Galveston. Learn more at www.moodygardens.com. We hope to see you soon!