Galveston Appreciation Day is October 16! In addition to inviting people that work and live on the island to come to Moody Gardens for free admission to various attractions, we are excited to offer a plant giveaway!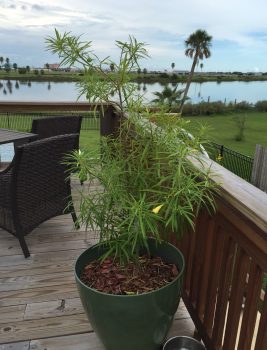 For the past seven years Moody Gardens has given away over 7,000 plants to people looking to add a little island flair to their yards and homes. For this year's Galveston Appreciation Day we have 2,000 plants up for grabs! We will be giving away Washington Fan Palms, Date Palms, Sago Palms and Mexican Oleanders. In order to grow that many plants over the years the Moody Gardens ground crew collects seedlings from all around property and brings them to our onsite Nursery Holding Yards. Our Nursery Holding Yards are made up of green houses and storage tents that are tended to by an employee named Poncho who weeds, prunes, fertilizes, and waters the plants.
In addition to Galveston Appreciation Day, we also donate compost, mulch and some plants to schools, churches, and other non-profits in the area.
If you live or work on the island and would like to have a palm tree or oleander for your own yard, register online here! Palms can be redeemed on property from 11:00 a.m. through 2:00 p.m. on October 16.