Educational Opportunities Can Seem to Be Our Best Kept Secret at Moody Gardens!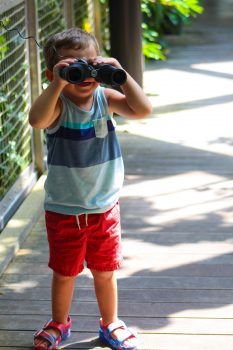 Since our inception, The Moody Gardens mission has been a public, non-profit educational destination utilizing nature in the advancement of rehabilitation, conservation, recreation, and research. However, as we strive to provide an enjoyable and informative experience, education can appear to be one of our best-kept secrets! Our staff is passionate about creating a place where education meets adventure and learning comes to life! We are thrilled to announce an array of upcoming educational opportunities suitable for all ages. Whether you're a homeschool family, a curious preschooler, or a member of a scouting group, there's something exciting awaiting you at Moody Gardens!
---
**Learn Wild! Home School Program**
Calling all home school families and groups! Our Learn Wild! Home School Program has the perfect opportunity for you to engage in a focused educational experience and it is offered each month. Join us on the first Wednesday of every month to explore a featured attraction, meet our ambassador animals, and dive into captivating documentary movies. Our expert Educators will lead you in hands-on activities that complement your home classroom curriculum. Our fall program kicks off on September 5, 2023, where students will learn all about "Slithering Sidekicks: Riding Reptiles." It's a chance for your kids to get up close and personal with these fascinating creatures. This family adventure includes the adults in the fun and is perfect for all ages!
Cost: $18 for non-members and $10 for members per person adult and youth 3-17; accompanying siblings 2 and under are free but must be registered.
---
**NEW! Learn Live! Pre-K Expeditions – For Learners Ages 3-5**
Your little learners aged 3-5 can embark on an unforgettable adventure through our Learn Live! Pre-K Expeditions. On the second Wednesday of every month (with the exception of June-August), children can enjoy games, crafts, experiments, storytime, and admission to the corresponding attraction. It's a fun and interactive way to keep their curiosity alive. The next expedition will be offered on August 16 where we'll be "Digging Dinos"! The expedition will feature the Dinosaur movie at the 3D IMAX and the Dino's Alive exhibit. The fun continues on September 13 with "Nocturnal Night-Owls." These morning sessions from 10:30 am to 12:30 pm fit perfectly into your little one's routine. Tickets are required for all adults and children aged 3 and up, while babies up to 2 years old can join for free, however crafts and games are 3+.
Cost: $15 for non-members and $10 for members per person adult and youth 3-17; accompanying siblings 2 and under are free but must be registered.
Private tours and programs are available for schools, home school groups, clubs, or a private family outing. Reach out to us for more info!
---
**Scout Programs: Exploring and Earning Badges**
Attention all scouts from Cub Scouts, Scouts BSA, Girl Scouts, American Heritage Girls, and Trail Life Troops! Moody Gardens is the perfect destination for your scouting adventures. Not only will you explore environments from around the world, but you'll also have the opportunity to work towards earning badges while having a blast.
For scouts aged 11-17, we have Scouts BSA Merit Badge Workshops designed to help you earn and learn at the same time. Join us on August 20 for the "Sustainability" workshop and on September 3 for the "Mammal Study." Our workshops are comprehensive and include exhibits or animal presentations related to the badge and are hands-on fun for everyone.
Private workshops are available for all ages and ranks, and you can even combine them with a sleepover to create a memorable Scouting Overnight Adventure. For more information and reservations, reach out to the provided email or phone number.
---
At Moody Gardens, we believe that education and adventure go hand in hand. Come and be a part of these incredible learning opportunities, where knowledge and excitement intersect. Whether you're a homeschool family, a curious preschooler, or a scouting group, Moody Gardens welcomes you to explore, learn, and create memories that will last a lifetime. For more information and to secure your spot, contact us today by calling us at 409-683-4290 or emailing us at teaching@moodygardens.org​ for more information. We look forward to embarking on this educational journey with you!