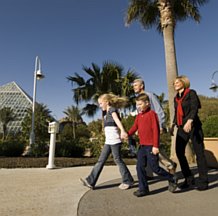 Moody Gardens is the perfect place to visit on your family weekend getaways in Texas. There is so much to do at Moody Gardens that it's impossible to fit all the fun into one day! Not only are the year-round attractions incredible, but we also have seasonal fun depending on what time of the year you visit. You can't skip visiting the Moody Gardens Aquarium Pyramid, Rainforest Pyramid, 3D Theater, and more!
Aquarium Pyramid: The Aquarium Pyramid is the largest pyramid at Moody Gardens. It houses four distinct ocean environments. When wandering through this big blue pyramid, you and your family will be entertained and entranced by the five species of penguins, the furry seals, and the famous Squirt, our blind sea lion. The colorful fish and coral reefs are nature's art at its finest. Watch the sharks, sea turtles, eels, and tropical fish swim all around you as you walk through an underwater tunnel!
Rainforest Pyramid: A major enhancement project has allowed guests to experience the Rainforest Pyramid in a whole new way! You can now walk through an entry that overlooks a new Amazon River otter exhibit. A new treetop path leads you through the canopy level of the pyramid, allowing you to explore and see the monkeys, sloths, and other tree-dwellers closer than ever. Don't forget to surround yourself with beautiful butterfly species in the butterfly exhibit. There are ten stories of rainforest magic to explore!
Moody Gardens Theaters. Choose from three different theaters, giving you three different experiences. At the MG 3D Theater you can enjoy larger-than-life images projected onto the largest movie screen in Texas. The Ridefilm combines both ride and a film, and the 4D Special FX Theater allows you to see, hear, feel, and smell the action with special effects such as wind, smoke, mist, leg ticklers, and seat buzzers!
The Aquarium Pyramid, Rainforest Pyramid, and the theaters at Moody Gardens are just a few of the reasons you can't miss out on this famous tourist attraction. Learn more by visiting www.moodygardens.com. Don't miss the Festival of Lights this holiday season if you are looking for Christmas events in Texas. We also have a special holiday offer going on!