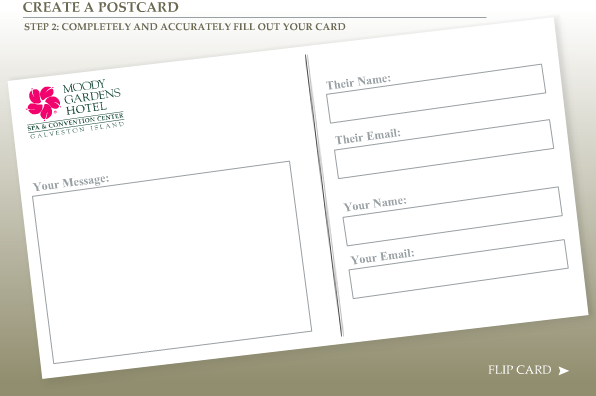 Sending a postcard has never been easier with Moody Gardens' online postcard service! You can participate in the vacation tradition of sending everyone back home a postcard without the hassle of buying the postcard, writing it, finding a stamp, and then mailing it out! Also, they will instantly receive your message, so you won't be sending a postcard that gets back home after you do!
The Moody Gardens postcard service is also completely FREE, which is way better than a real postcard. Simply click here and start filling out your postcard. All you need is a valid email address, and the receivers email address!
You can write a postcard from the whole family, or let each individual family member send their own postcard. There is no limit!
Choose from six postcard images that include the Moody Gardens Pyramids, a picture of a hotel room with the pyramids as the view, a picture of the Moody Gardens Hotel, the Spa at Moody Gardens, the Moody Gardens entrance, and the hotel pool! You can send a postcard with each image, talking about your experience at each place.
Each postcard allows you to write a brief message, and you don't have to worry about messing up or running out of space like on regular postcards. Online postcards are the way to go.
If you're looking for family friendly hotels with world-class service and incredible amenities, then look no further than Moody Gardens Hotel. We would love to accommodate you and your family on your next family weekend getaway to Texas, or for a weeklong vacation! You won't run out of things to do with so many Moody Gardens Attractions to choose from, and with all the places to explore around Galveston. We look forward to seeing you soon.