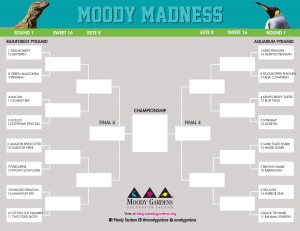 Our animals at Moody Gardens are big sports fans. No, really!
Over the years, we've had our seals, Saki Monkeys and Komodo Dragons pick the Super Bowl winners. We also have penguins named after sports stars like Biggio and Watt.
So with the NCAA Basketball tournament this week, our animals decided to have a friendly competition to find out which is the most popular.
The bracket features 16 Rainforest Pyramid and 16 Aquarium Pyramid residents. During the next three weeks, you will be able to vote for who you want to advance to the next round. In the end, one Rainforest Pyramid and one Aquarium Pyramid animal will square off to see which is the most popular at Moody Gardens.
Be sure to vote for your favorite animals at Moody Gardens!
VOTING SCHEDULE:
First round – March 19-24
Sweet Sixteen – March 25-27
Elite Eight – March 28-31
Final Four – April 1-April 3
Championship – April 4-7
CLICK HERE to vote or vote below for the Rainforest Pyramid animals and make sure to click Next when you're done at the bottom to vote for the Aquarium Pyramid animals on the second page.
Create your free online surveys with SurveyMonkey , the world's leading questionnaire tool.