Moody Gardens recently welcomed two-toed sloths to our island paradise!!
Carlton and friends will be free roaming in the newly enhanced Rainforest Pyramid opening in May 2011. Paula Kolvig, assistant curator at the Moody Gardens' Rainforest Pyramid, takes you into the sloths' habitat for an up close encounter.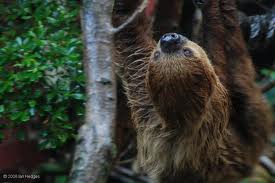 Click here to watch the video!
Fun Fact:
Two-toed sloths spend almost their entire lives hanging upside-down, including eating, sleeping, mating, and giving birth. In fact, they spend so much time hanging upside-down that their fur actually grows from their belly to their back so that rainwater can runoff easily. They are also one of the few species of mammals that can turn their heads 180 degrees in both directions!
Blog Post by:
Whitney O'Grady
Rainforest Public Relations Coordinator