It may be 9 degrees, but the heat is on as the CAA Harbin Ruijing Carving Team has nearly completed Scene 3 of ICE LAND: Ice Sculptures, A Caribbean Christmas. Be sure to get your ticket to this, the Festival of Lights and all of the other holiday attractions at Moody Gardens November 12 – January 8.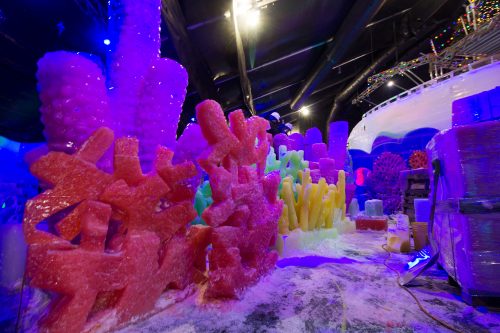 After your cruise through the Gulf of Mexico via the RV Manta Research Vessel, you will discover your path into the depths of the Gulf of Mexico in Scene 3. You'll encounter vibrant corals as part of the Flower Garden Banks National Marine Sanctuary! Immerse yourself in all that this unique experience has to offer as you discover amazing holiday surprises along the way.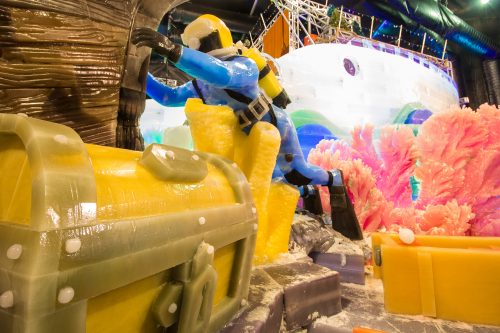 Moody Gardens is also offering an Ice Carver V.I.P.  Experience with a behind-the-scenes tour of these skilled carvers transforming these huge blocks of ice into magnificent towering ice sculptures. Next, you will be escorted to the Aquarium Pyramid for a Penguin Encounter during which you get to meet a real penguin!  This is followed by an authentic Chinese lunch accompanied by a Q&A session with the master ice carvers themselves!  This $199 per person package also includes a Penguin Art painting by a Moody Gardens penguin and a ticket to visit ICE LAND and Festival of Lights once these attractions are completed and open for the holiday season. For reservations, please call 409-683-4368. (Reservations are required one week in advance. Prepayment is required at the time of your reservation. This package is discounted to $179 for Moody Gardens members).
You can watch all of the action live with our webcam.
The holiday season at Moody Gardens will kick off on November 12, 2016 and run through January 8, 2017.