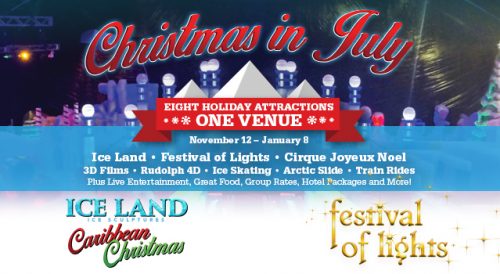 Although it's hard to believe that Christmas is only six months away, holiday preparations at Moody Gardens are already underway! Prepare for a spectacular holiday season as we begin with revealing this year's brand-new theme for 2016, ICE LAND: Ice Sculptures, Caribbean Christmas!
In honor of ICE LAND's new Caribbean theme, the Aquarium Pyramid's Caribbean Exhibit has taken on a holiday theme for the entire month of July.
See Santa dive in the Aquarium Pyramid's Caribbean Exhibit daily at 2pm
Enjoy a Caribbean Christmas Light Show continuously in the aquarium's Ocean View Room.
ICE LAND: Ice Sculptures, A Caribbean Christmas                                                     November 12, 2016– January 8, 2017
New – Ice Carver VIP Experience Your exclusive behind-the-scenes opportunity to see the artists at work as they create these magnificent, towering ice sculptures.
New – Shiver's Ice Bar featuring ultra-cool holiday spirits
Moody Gardens takes the holidays to a whole new level of cool! A skilled team of master ice carvers has charted your course for the ultimate Caribbean Christmas! Embark on an amazing undersea journey made of 2 million pounds of ice!
Imagine a towering oil rig ice slide takes you to the breathtaking Flower Garden Banks and the Gulf Mexico as you encounter spectacular schools of beautiful tropical fish, eagle rays, turtles, Hammerhead sharks and more on your way to your island destination!
With numerous attractions to offer this holiday season, 2016 will be the best year yet! Stay tuned in to our Facebook and Twitter as we will begin announcing all of the various events, attractions and activities. Happy Holidays from our Moody Gardens family to yours!