PLAN YOUR GETAWAY AT THE COOLEST HOLIDAY DESTINATION IN THE SOUTHWEST
With the opening of ICE LAND: Ice Sculptures with SpongeBob SquarePants and the return of the annual Festival of Lights, Moody Gardens has officially become the coolest holiday destination in the Southwest.
With so many attractions to enjoy, the Moody Gardens Value Passes have been a popular choice among guests. For just $59.95, visitors get entry into ICE LAND, Festival of Lights, Aquarium Pyramid, Rainforest Pyramid, Discovery Museum, MG 3D Theater, 4D Special FX Theater and Colonel Paddlewheel Boat. Those wanting to make a weekend visit can also purchase a Two-Day Value Pass for $79.95 and get unlimited entry to everything Moody Gardens has to offer.
So what's the best schedule if you are planning a vacation to Moody Gardens? Here is a sample itinerary to make sure you don't miss a thing:
DAY 1
» 9-9:45 a.m. Breakfast at Moody Brews
Located in the main lobby of the hotel, Moody Brews offers a full line of Starbucks beverages, grab-and-go menu items, retail products, free WiFi, laptop work stations and comfortable seating.
» 10-11 a.m. Rainforest Pyramid
Take a tour of the 10-story glass pyramid that is home to more than 1,000 species of plants and animals. You will experience rainforest life from around the world and encounter free-roaming animals, like the cotton-top tamarins and saki monkeys.
» 11:05-11:35 a.m. Discover the Ice Age
Travel back in time to discover a frigid world, covered in ice and occupied by mammoths, saber-toothed cats, cave people and more. The exhibit features life-sized animatronic animals and real fossils within the Discovery Pyramid.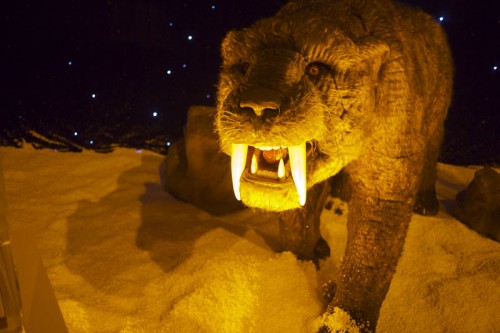 » 11:45 a.m.-1 p.m. Lunch at Café in the Park at the Moody Gardens Hotel
» 1:30-2 p.m. ICE LAND: Ice Sculptures with SpongeBob SquarePants
Enjoy the coolest new attraction to date when you visit ICE LAND: Ice Sculptures with SpongeBob SquarePants. Being the only holiday ice exhibition on the Gulf Coast, this is a vast and amazing display of 900 tons of towering SpongeBob SquarePants-themed ice creations.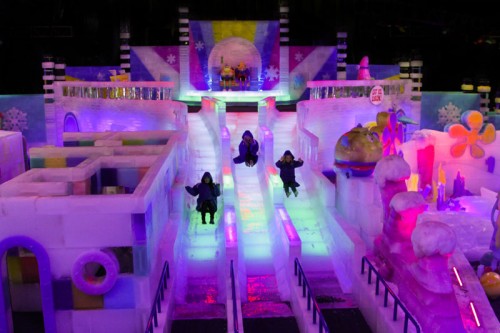 » 2:15-4:30 p.m. Deep Tissue Massage at the Spa and 9 Holes at the Moody Gardens Golf Course
Send the little ones to a Kid's Crew activity provided throughout the weekend by the Moody Gardens Hotel and relax at The Spa or play a round of golf at the Moody Gardens Golf Course.
» 5-6 p.m. Festival of Lights Buffet at the Garden Restaurant for Dinner
» 6-6:15 p.m. Pictures with Santa
Be sure to stop by Santa's Village in the Visitor's Center lobby and get your picture with Santa Claus!
» 6:15-6:45 p.m. Gingerbread Gardens
Build your own Gingerbread House with the family inside the Visitor's Center lobby.
» 7-8 p.m. Festival of Lights
Enjoy the mile-long trail of over one million lights and 100 animated displays that winds through the beautiful Moody Gardens property. This is a holiday tradition you won't want to miss!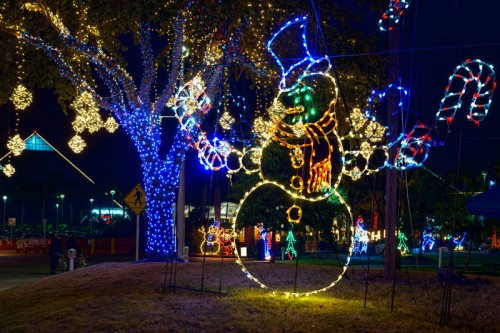 » 8-8:30 p.m. Ice Rink
Grab some rental skates and enjoy the area's only outdoor ice skating rink.
Day 2
» 8:45-9:45 a.m. Breakfast at Café in the Park
» 10-10:50 a.m. Aquarium Pyramid
Visit four distinct ocean environments in the largest Moody Gardens Pyramid that includes seals, sea lions, sharks, thousands of fish and more than 90 penguins.
» 11-11:45 a.m. Penguin Encounter
Get up close and personal with a penguin during this 45-minute program that takes guests behind the scenes.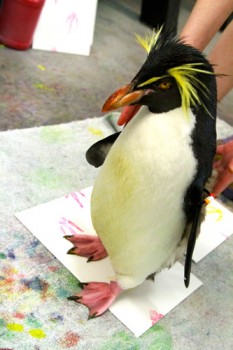 » 12-12:45 p.m. Lunch at the Aquarium Pyramid Food Court
» 1-2 p.m. Colonel Paddlewheel Boat
Take a cruise around Offatts Bayou on this 1800s-style paddlewheel boat.
» 2:30-3 p.m. 4D Special FX Theater
Engage your senses in this theater as you encounter a 20-minute adaptation of Rio 4D or Polar Express 4D.
» 3:15-3:45 p.m. Arctic Ice Slide
Take a slide down this Texas-sized ice slide located outside the Visitor's Center.
» 4-4:45 p.m. Sky Trail® Explorer Ropes Course
Challenge your agility, balance and strength as you encounter the new five-tier Ropes Course. Children 48 inches and under can also take on an adventure of a smaller scale on the Sky Tykes™ Ropes Course.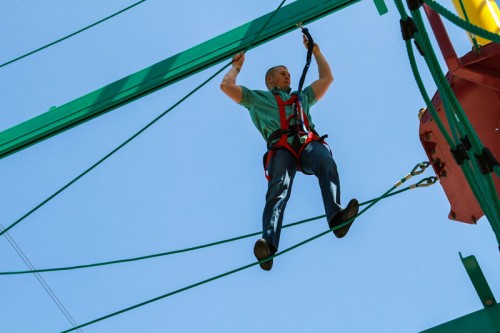 » 4:45-5 p.m. Moody Gardens Zip Line
Snap into the harness, step to the edge of the zip line platform and glide over Palm Beach and the Lazy River 60 feet in the air for a bird's eye view of the Moody Gardens Pyramids and tropical gardens.
» 5:15-6:15 p.m. Dinner at Shearn's Seafood and Prime Steaks
» 6:40-8 p.m. MG 3D Theater
Finish out the day watching some holiday favorites, such as Light Before Christmas 3D and Santa vs. Snowman 3D, in the newly enhanced MG 3D Theater featuring the world's first giant screen 6p laser projector and the largest screen in Texas.