With a little over a month before opening day of this year's ICE LAND: Ice Sculptures, A Caribbean Christmas the CAA Harbin Ruijing Carving Team has already completed the towering Aquarium Pyramid within Scene One of your aquatic adventure!  Be one of the first to check it out in person by booking an Ice Carver V.I.P. Experience to see the ice carvers in action as they create this amazing art ice endeavor.
We don't want to ruin all the surprises, but the CAA Harbin Ruijing Carving Team has set the stage for a dramatic welcome as you enter ICE LAND to see Scene One. The main entrance to this unique ice attraction features a replica of the Moody Gardens Aquarium Pyramid along with a vibrant color wall that reads, "Moody Gardens, A Caribbean Christmas." Currently in progress is a replica of the R/V Manta, the Flower Garden Banks National Marine Sanctuary research vessel. The 82-foot, high-speed Teknicraft catamaran is used primarily as a research platform, conducting research and monitoring activities in the waters of the northwestern Gulf of Mexico, but mostly within sanctuary boundaries. Guests will climb aboard this ice structure to begin their aquatic journey to their Caribbean destination for the holiday!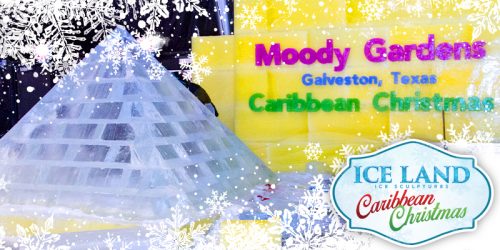 For the first time ever, Moody Gardens is offering an opportunity of lifetime as you can receive a personal behind-the-scenes tour of these master artists transforming these huge blocks of ice into magnificent towering ice sculptures. Next, you will be escorted to the Aquarium Pyramid for a Penguin Encounter during which you get to meet a real penguin!  This is followed by an authentic Chinese lunch accompanied by a Q&A session with the master ice carvers themselves!  This $199 per person package also includes a Penguin Art painting by a Moody Gardens penguin and a ticket to visit ICE LAND and Festival of Lights once these attractions are completed and open for the holiday season. For reservations, please call 409-683-4368. (Reservations are required one week in advance. Prepayment is required at the time of your reservation. This package is discounted to $179 for Moody Gardens members).
You can watch all of the action live by our webcam.
The holiday season at Moody Gardens will kick off on November 12, 2016 and run through January 8, 2017.