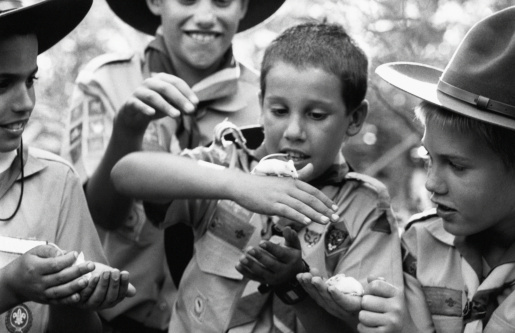 Boy and Girl Scouts can come for a day of fun and learning at Moody Gardens, and earn badges and merit badges through our Scout Programs.
Each scout workshop includes hands-on activities, a Moody Gardens attraction visit, and a guaranteed good time! While scouts are having fun, they are also meeting most or all of the requirements needed to earn specific badges.
For Cub Scouts, we offer badges for Wolves, Bears, and Webelos. For $100.00, up to ten participants (including chaperones) can participate and earn the following badges:
Wolves: Elective 13, Birds
Bears: Achievement 5, Sharing Your World
Webelos: Naturalist Activity Badge
Each additional participant is $10.00 per person. We also require one chaperone for every five cub scouts, and non-scout children are not permitted to attend the workshop.
Reservations are required and must be made at least two weeks in advance. Call 1-800-582-4673, ext. 4325 or email us at scouts@moodygardens.com for information and reservations.
For Boy Scouts, we offer Merit Badge Day, which gives them the opportunity to finish most of the requirements for a merit badge in just one day.
Upcoming Merit Badge Days at Moody Gardens include:
February 16, 2013 (Register on January 21, 2013)
Environmental Science $25
Communications $25
Oceanography $20
Nature $25
March 23, 2013 (Register on February 18, 2013)
Communications $25
Soil & Water Conservation $20
Mammal Study $20
First Aid $25
April 20, 2013 (Register on March 25, 2013)
Oceanography $20
Environmental Science $25
Nature $25
Bird Study $20
Registration begins at 9 a.m. on the designated days. Call 1-800-582-4673, ext. 4320 or 409-683-4320 to register. Private Merit Badge workshops are available for a minimum of ten scouts, and two weeks' notice is required. You can also email scouts@moodygardens.com for more information.
Don't miss out on exploring the Aquarium Pyramid or Rainforest Pyramid while you're here!