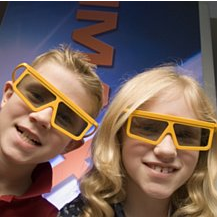 At Moody Gardens, we are not a seasonal attraction that is only open certain times of the year. The fun here is nonstop and year-round! While we do have seasonal attractions, such as Palm Beach and Festival of Lights, we also have our popular Aquarium Pyramid and Rainforest Pyramid, and tons of events each month.
If you do happen to come during the winter or summer seasons, you can't miss the Festival of Lights or Palm Beach. The Festival of Lights includes over 1 million holiday lights, and is the largest holiday lights festival in the area! Palm Beach opens in the summer, providing guests and island residents with Galveston's only white sand beach!
Year- round attractions you can't miss include:
Aquarium Pyramid
Penguin Encounter
Rainforest Pyramid
Discovery Museum
Colonel Paddlewheel Boat
Moody Gardens also offers three different theaters that provide unique cinematic experiences. Catch your next film at the Moody Gardens 3D Theater, Ridefilm Theater, or the 4D Special FX Theater.  Each theatre provides a different kind of experience, from a regular 3D viewing to a ride featuring a 180-degree wraparound screen!
Be sure to stay up to date with our Calendar of Events. Each month we have Birding 101 and Birding 201. These free classes are designed to teach visitors about the variety of bird life living on Galveston Island. The classes are presented by Moody Gardens and Galveston Island Nature Tourism Council and available twice a month.
We also offer Pyramid Camp for kids each month, with a variety of different themes. Sign your kids up for Pyramid Kids Camp: Catch Me If You Can in February or Pyramid Kids Camp: Primate Palooza in April!
Learn more about the fun at Moody Gardens by exploring our website.
If you're looking for family weekend getaways in Texas, book your next trip at the Moody Gardens Hotel. We look forward to seeing you soon.