MOODY GARDENS WELCOMES MASTER ICE CARVERS TO CREATE FESTIVAL GLOBAL JOURNEY
After traveling halfway around the world, the internationally-acclaimed CAA Harbin Ruijing Carving Team has returned to Moody Gardens to chart the course for a festive and amazingly cool journey around the world from two million pounds of ice.
The team of 25 master carvers will spend the next six weeks sculpting ordinary 300-pound blocks of colored ice into works of art and more as they create ICE LAND: Christmas Around the World, opening Nov. 16.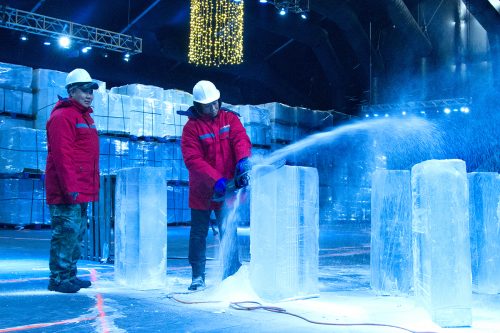 This year's ICE LAND theme takes guests on a journey around the world. The carving team will even create a giant ice slide that will take guests from the top of the Eiffel Tower to the Arc de Triomphe. Guests will travel from Russia and Egypt to China and beyond and see how other cultures celebrate the season. Landmarks from all around the world will be featured including the Alamo, Big Ben, Sydney Opera House, the Great Wall of China, and more – all hand-carved out of two million pounds of ice inside a 28,000 square foot insulated tent structure chilled and maintained at nine degrees. The popular Shiver's Ice Bar also returns to ICE LAND this year as guests enjoy ultra-cool holiday spirits as they enter this bar made completely of ice creatively transformed into a cozy cabin to fit the Christmas Around the World theme.
The team is led by chief ice and snow carving artist Mr. Qui Guanghui, who has received top honors in numerous international tournaments including the Harbin International Ice and Snow Carving and Chinese National Ice Carving Competition.
"The ice carving team creates a unique and breathtaking spectacle every year," said John Zendt, Moody Gardens President and CEO. "Guests will be amazed at the amazing talent and dedication of all the work that goes into creating ICE LAND."
ICE LAND: Christmas Around the World, the only ice sculpture exhibition on the Gulf Coast, is open Nov. 16, 2019-Jan. 12, 2020.
Other holiday attractions include Festival of Lights, Cirque Joyeux Dinner & Show, Rudolph 4D, 3D films, ice skating, an Arctic Slide and train rides, plus live entertainment and great food. For more information about these attractions, and discounted ticket options, click here.