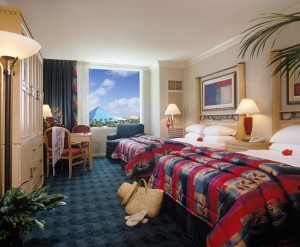 If you're looking for family-friendly hotels in Texas, then book your next vacation here at the Moody Gardens Hotel! Our hotel is one of the best places to stay in Galveston, and we have the finest rooms and suites in the area to accommodate our valued guests.
King and Queen Accommodations
Each room is a reflection of the botanical beauty of the Moody Gardens. The interior design of each hotel room combines both style and tropical ambiance to create the best guest room accommodations on the island. Each room provides 500 square feet of space, and a variety of views, such as the Pyramids, Galveston Bay, and marinas.  Choose from rooms with either a king-sized bed or two queen-sized beds. Expect unbeatable amenities, such as complimentary high-speed Internet, mini fridges, plush bathrobes, lighted vanities, full-length mirrors, extra pillows, and more.
King Jacuzzi Suites
All the great amenities from the king and queen accommodations are a part of the king Jacuzzi suites, but they offer even more. Located on the third floor, these luxury suites feature an expanded living area, a balcony overlooking the Pyramids and Galveston Bay, and of course, a separate Jacuzzi area.
One and Two Bedroom Suites
Looking for even more luxury? Stay in one of our sumptuous one- or two-bedroom suites individually designed with stunning views of Moody Gardens and Galveston. Expansive living and dining areas, wet bars, and complimentary wireless Internet connectivity are all a part of these suites. Choose from a one-bedroom with a king-sized bed and connection parlor, or a two-bedroom suite with a king-sized bed and a room with two queen beds.
Book your next vacation to Galveston with us! While you're staying in the Moody Gardens Hotel, be sure to check out the Aquarium Pyramid, Rainforest Pyramid, and other surrounding attractions.