New Year's Eve is just around the corner, and what better way to kick off 2017 than with the Midnight in the Gardens: A New Year's Gala.
From 7:30 p.m.-1 a.m., put on your finest black-tie attire and get a "little bit country and a little bit rock and roll" to enjoy live music, an open bar, deluxe party favors, a lavish buffet, Champagne toast and a midnight balloon drop, all at the Moody Gardens Hotel.
Tickets for the gala are available for $470 per couple or $240 per single person. As a special treat, hotel accommodations for gala guests start at $109+tax/night. For tickets and reservations, call 888-388-8484.
While you're here, make sure to check out our holiday attractions, including ICE LAND: Ice Sculptures, A Caribbean Christmas and Festival of Lights.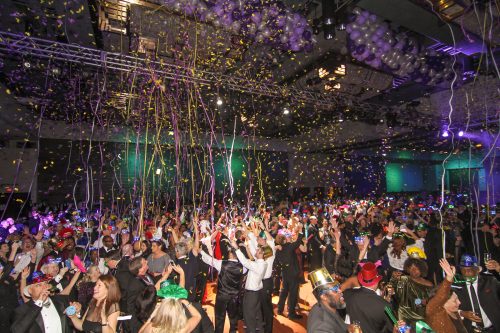 ICE LAND: Ice Sculptures, A Caribbean Christmas
This year's brand-new ICE LAND theme allows you the chance to embark on a breathtaking underwater journey from the shores of Galveston Island through the Gulf of Mexico. As you explore the oceans depths, you will discover sunken treasure and see Christmas surprises along the way.
An ice slide takes the form of a towering oil rig and gives you an opportunity to venture through the beautiful Flower Garden Banks for encounters with spectacular schools of colorful tropical fish, eagle rays, turtles, dolphins, Hammerhead sharks and more.
On the way to your Caribbean island destination be on the lookout for Shivers Ice Bar that will be serving up alcoholic drinks inside a bar made completely out of ice! ICE LAND: Ice Sculptures, A Caribbean Christmas is open now through Jan. 8.
Festival of Lights
The 15th annual Festival of Lights offers an illuminating holiday season. Guests are invited to start a holiday tradition like never before with more lights, breathtaking views, the area's only outdoor skating rink and the thrilling Arctic Slide.
Visitors can walk the one-mile trail filled with sound-enhanced lighting and animated displays themed to their favorite holiday music. Guests can then grab an inner tube and plunge down the Festival's Texas-sized, 100-foot long Arctic Slide.
New this year is the arrival of television classic, Rudolph the Red-Nosed Reindeer in the Special FX 4D Theater. For the first time guests will be able to enjoy the family favorite in high definition for better viewing and interactive elements to engage all senses. There will be new holiday films at the MG3D Theater as well.