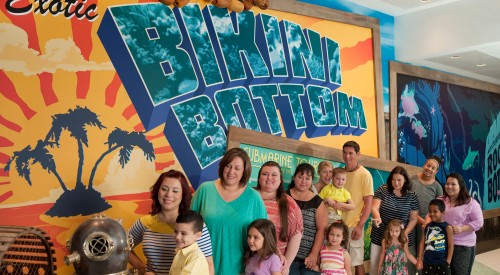 Moody Gardens invites you to come help us celebrate the debut of the SpongeBob SubPants Adventure as it opens its doors to the public on May 23. Moody Gardens has planned a Memorial Day weekend full of fun and festive entertainment for the whole family to enjoy!
The free public activities are from 10 a.m. to 4 p.m. on May 23 and 10 a.m. to 3 p.m. on May 24 and 25 in the Discovery Pyramid Plaza and Herb Garden.
Activities include:
Meet and Greet with SpongeBob SquarePants, Patrick Star and Sandy Cheeks (*Sandy only on Sunday)
Watch Nickelodeon illustrators create original SpongeBob SquarePants artwork. Those who visit the SpongeBob SubPants Adventure on May 23 will have the chance to win some of these one-of-a-kind drawings.
SpongeBob SquarePants-themed arts-and-crafts
Hourly performances from 11 a.m. to 4 p.m. on May 23 by Houston's Sweft Dance Troupe as they show guests and Sandy Cheeks how to line dance to songs themed around Sandy's home state of Texas.
The SpongeBob SubPants Adventure is a one-of-a-kind interactive experience that guests on a submarine voyage to explore the world of Bikini Bottom with the help of their captain, Patrick Star. Guests are able to have real-time conversations with Patrick and will help choose their path through the wild and silly deep-sea adventure for the whole family to enjoy only at Moody Gardens. Admission is $18.95 for adults and $16.95 for seniors and children. It is also included in a Moody Gardens Value Pass.
For more information, call (800) 582-4673 or visit www.moodygardens.org.