There is still time to catch Star Wars: Episode VII The Force Awakens 3D  at Moody Gardens in our state of the art theater!
Thirty years ago the Empire was defeated and now a new threat, the First Order has risen from the ashes of the Empire. A scavenger named Rey has come into contact with a droid that contains a map to the legendary Luke Skywalker, who has vanished. Rey and a rogue storm trooper named Finn find themselves in a monumental conflict between good and evil that will see faces old and new.
Experience the action at it plays out not only on the largest screen in Texas, but on one that features the world's first 4K 3D Giant Screen 6 Primary Laser Projection System. What this means is that you will be immersed in 11.1 surround sound with Auro 3D on our Texas sized screen allowing the spectacular special effects of the film to be featured in the optimal setting for the best viewing experience in the world!
Take photos with your favorite Star Wars characters before the show Saturday, March 26! Stormtroopers and other characters will be roaming around Moody Gardens later in the afternoon before the 5:10 p.m. showing.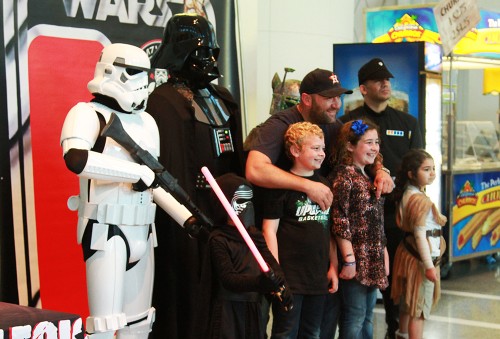 Star Wars: Episode VII The Force Awakens 3D runs through spring break until March 27. Tickets for the film are included in our Day Pass or Two Day Value Pass as well as can be purchased separately for $10.95 for adults, $8.95 for children and seniors, and children 3 and under are free.  View our MG 3D Theater film schedule, or purchase tickets.