With just nine days remaining until opening day, the CAA Harbin Ruijing Carving Team of master ice carvers from Harbin, China are adding the finishing touches as the work of over 100 towering ice sculptures are completed at ICE LAND: Ice Sculptures, A Caribbean Christmas. Beautiful coral, a wide range of marine life ranging from spinner dolphins and other fish, a giant hammerhead and Kemp's Ridley sea turtles as well as the finishing details at Shiver's Ice Bar, the Oil Rig Ice Slide and more with Christmas theming throughout are the nuances that will provide a unique experience unlike any other for visitors to enjoy this holiday season when the attraction opens November 12.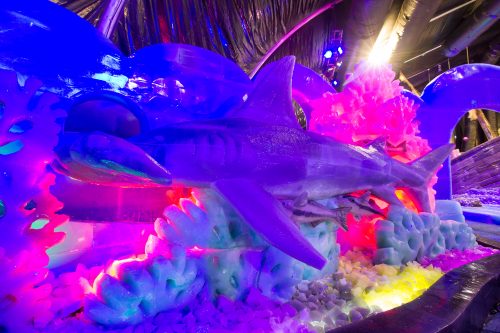 In its third year, ICE LAND will have guests embark on a breathtaking underwater journey from the shores of Galveston Island through the Gulf of Mexico. As they explore the oceans depths, they will discover sunken treasure and see Christmas surprises along the way. An ice slide takes the form of a towering oil rig and gives an opportunity to venture through the beautiful Flower Garden Banks National Marine Sanctuary for encounters with spectacular schools of colorful tropical fish, eagle rays, turtles, dolphins, hammerhead sharks and more on the way to their Caribbean island destination.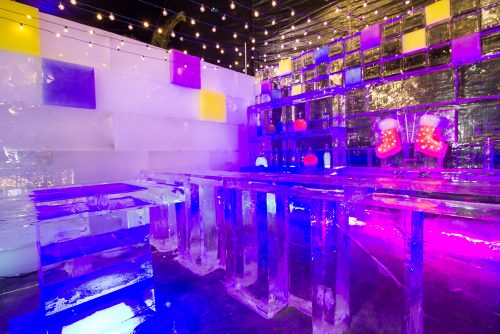 ICE LAND will offer a unique holiday experience for the entire family and will be open November 12 through January 8, as Galveston makes its transition into the Winter Wonder Island.  Admission for adults is $26.95, $21.95 for seniors and $15.95 for children. A Value Days discount of $5.00 is available Sunday through Thursday, November 13 – December 15 and January 1-5 excluding Thanksgiving Day. Festival of Lights admission is $10.95. Additional combination tickets such as the Holiday Pass are available online for $34.95 and offer admission to ICE LAND, Festival of Lights, plus one attraction. Special packages are available for groups of 20 or more. Hotel Packages are also available.
In addition to ICE LAND: Ice Sculptures, A Caribbean Christmas, Moody Gardens will be home to seven other holiday attractions this season. Guests can take a stroll through the Festival of Lights, a one mile walking trail that features hundreds of light displays, including the area's only outdoor ice rink. They can also enjoy the Arctic Slide, train rides, a variety of holiday and traditional films at the MG 3D theater, and a new Rudolph the Red Nosed Reindeer Experience at the 4D Special FX Theater. The Rainforest, Aquarium and Discovery Pyramids will also be open. A Holiday Buffet will also be available nightly. The Holiday Gift Market will be featured at the Moody Gardens Convention Center Thanksgiving Weekend and guests can enjoy the new Cirque Joyeux Noel Dinner & Show December 16 – 26 at the Moody Gardens Hotel.
For more information call 1-800-582-4673 or visit www.moodygardens.org .