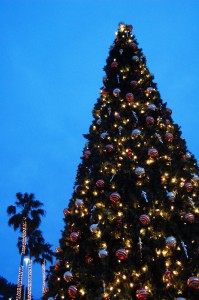 At the Festival of Lights you can experience the sights, sounds, smells, and flavors of the holidays. The Holiday Buffet covers the tastes and smells with its delicious variety of holiday soups, salads, entrees, accompaniments, and desserts.
The Holiday Buffet is the perfect place for date night or a family outing. With two delicious options for the kiddos (Spaghetti Marinara and Mac & Cheese Supreme) the whole family is bound to be satisfied with this holiday feast.
The Holiday Buffet is the perfect way to start or finish your visit to the Festival of Lights. You can fuel up on all the different delicious foods offered, such as the Pasta Shells with Ricotta over a Bed of Tomato Basil Cream Sauce accompanied with Grand Marnier and Cinnamon Glazed Carrots. Follow your meal with one of our Chef's assorted desserts. Yum!
The Holiday Buffet is a great place to take out-of-town guests who are in for the holidays! You don't have to do any of the decorating, cooking, or cleaning. Leave it all to us to feed your guests a delicious meal during their stay. The buffet is also a great option if you are already at Moody Gardens exploring. You don't have to drive, park, and wait at another restaurant. You can just stroll right into The Garden Restaurant.  It's not just a meal; it's a seasonal experience for everyone.
The Festival of Lights Buffet is served only on nights the Festival of Lights is open. It also excludes Thanksgiving and Christmas due to the special holiday menu on those days. The price of admission for adults is $15.95, and for children ages 5-12 is $7.95. Take a look at our delicious menu!
If you're looking for Galveston or Houston holiday events, look no further than Moody Gardens. Our holiday lights festival is the perfect family entertainment this season. Don't miss out on our Festival of Lights Arctic Package deal for your family weekend getaways in Texas this season. Be sure to check out the family friendly accommodations at the Moody Gardens Hotel.