Some people think that age is just a number but at Moody Gardens it is something to celebrate, especially when one of our animals has a milestone birthday!
Wagner is one of 15 chinstrap penguins that we have in our Aquarium Pyramid® and she is the oldest of her species in all of North America! Wagner is turning 32 today which is big deal not only because she is the oldest penguin on this continent but because the general lifespan of her species is only in the mid-twenties.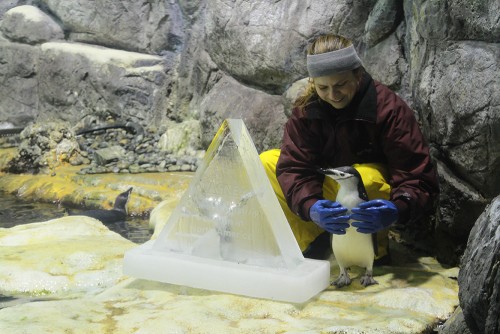 While living in our South Atlantic Exhibit Wagner generally enjoys spending her time swimming but on her birthday we planned a little something extra. Wagner was presented with a special ice sculpture modeled after the Aquarium Pyramid® that she lives in and she seems to know that it was all about her today. She is typically more aloof. Today, she was frolicking in the water and interacting more and seemed to enjoy her birthday party. The children outside the exhibit also enjoyed her party, as they sang Happy Birthday to Wagner. Please join us in wishing Wagner a very happy 32nd birthday and send her a congratulatory message on being the oldest chinstrap penguin in North America!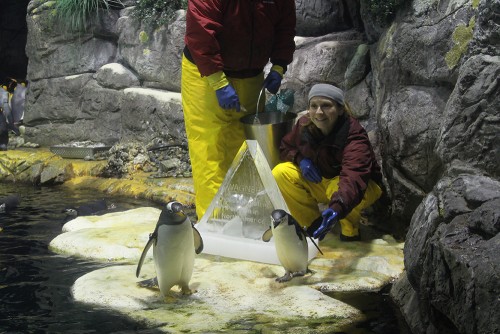 Also be sure to see Wagner in person before the penguin exhibit temporarily closes from January 11-March 11 as part of the aquarium renovations. (Don't worry though; the rest of the aquarium exhibits will still be open during this time.) Before the penguins go on hiatus there is still time to come visit our South Atlantic friends! You can get up close to our penguins as part of the Moody Gardens Public Penguin Encounter. The encounter lasts for 45-minutes and allows you to get up close to one of our penguins like Wagner. During your experience you are led by a Moody Gardens biologist from the front of the exhibit to behind the scenes of the penguin food preparation kitchen and then to the back of the chilly penguin exhibit. This is all while discussing penguin biology, conservation, training, enrichment and care with your Moody Gardens biologist.
Come experience the cool climate and sounds of the exhibit and witness a penguin create a work of art with a penguin painting as part of an enrichment activity for the animal! More information on the Moody Gardens Public Penguin Encounter can be found here. You can even purchase a penguin painting in our Aquarium Gift Shop. Proceeds from the painting go toward animal conservation projects. It's a very unique gift for the animal lover in your life!
For more information, click here.