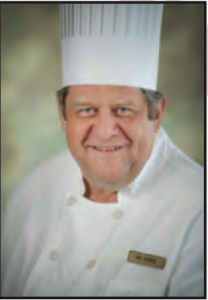 If you've ever had dinner at Shearn's Restaurant then you've tasted the culinary genius of the famous Chef Urs Schmid. His Shrimp Dejonge and Lobster Bisque are famous here on the island, and for good reason! Keep reading to learn more about Executive Chef Urs Schmid.
Urs Schmid was born in Switzerland where he developed his passion for cooking while helping his father prepare meals on Sunday afternoons. As a teenager, he worked in a local hotel kitchen where he had "the time of his life" and decided cooking was his passion.
After graduating from high school, Chef Schmid began an apprenticeship at the Hotel Acker-Montana in Wildhaus, Switzerland. He also began his culinary education in Lucern. Chef Schmid worked in many hotel kitchens before serving in the Swiss Army.
After completing his military commitment, Urs Schmid continued gaining experience in the culinary arts by working seasonal jobs as commie de cuisine and chef de partie in some of the finest hotels in Switzerland, including the five-star Grand Hotel Viktoria Jungfrau in Interlaken.
Urs Schmid followed his culinary passions to the Bahamas where he worked as sous chef at the Cotton Bay Club and sous and executive chef at Cap Eleuthera.
While working in the Bahamas, Urs Schmid was introduced to Mrs. R.E. Bob Smith, who convinced him to come to Galveston where he became executive chef at the Bob Smith Yacht Club. He spent over eighteen years as both chef and general manager of the Yacht Club. His time at the club won him widespread acclaim. He met his wife Elena while working at the Yacht Club and started his family. Elena and Urs Schmid have two sons, and have called Galveston their home since 1980.
In the fall of 1998, Urs Schmid arrived at Moody Gardens and has served as our Executive Chef since our beginning. Under his direction, Shearn's Restaurant has become the finest culinary destination in Galveston and has won the AAA Four-Diamond Award on more than one occasion.
Executive Chef Urs Schmid has been named Chef of the Year by the Texas Chef's Association and been awarded a Bronze Star from the Galveston Chapter of the Chaine de Rotisseurs. We are proud to have him as part of the Moody Gardens' family.
Stay at the Moody Gardens Hotel on your next family weekend getaways in Texas. We are not only one of the best places to stay in Galveston, but also home to the finest restaurant in the area with the best executive chef in Texas!