Enjoy the Flavors of Christmas at Moody Gardens!
Honey glazed ham, potatoes, New York sirloin steak and a little something sweet. These are just a few Flavors of Christmas that our chefs at Moody Gardens are featuring on this year's holiday menus.
And the best part? We're open Christmas Eve 10 a.m.-10 p.m. and Christmas Day noon-10 p.m., so we can do all the cooking for you!
Whether you're craving the traditional flavors of Christmas or a taste of the sea, or have an extra sweet tooth, the chefs here at Moody Gardens have you covered.
Garden Restaurant Christmas Buffet
Located in the Visitor Center, the Garden Restaurant features views of Offatts Bayou from the patio. The buffet includes Butternut Squash with Cinnamon Croutons, Smashed Potato Bar with all of the Fixings, Chicken Gruyere on a Bed of Marsala Sauce and more. Reservations are recommended but not required. Call 409-683-4202. Complete Menu.
Café in the Park Christmas Dining
We're offering brunch and dinner at the café, located on the lower lobby level of the Moody Gardens Hotel. This year's brunch and dinner boasts Pan Roasted Red Fish with Blackened Shrimp and Sweet Three Pepper Sauce, Chicken Leg Confit with French Lentils and Herb Jus and Spiral Honey Glazed Ham with Hawaiian Sweet Rolls. Brunch includes complimentary Mimosas and Bloody Marys. Reservations are required for groups of 10 or more. Call 409-683-4466. Complete Menu.
Shearn's Seafood and Prime Steaks
Located on the ninth floor of Moody Gardens Hotel, Shearn's features views of the Moody Gardens Pyramids. Choose from fresh seafood including Lobster Tails, Snapper and Scallops or Filet Mignon, New York Sirloin Steak, Lamb Chops and Veal. Reservations are required. Complete Menu.
Moody Brews
Enjoy a warm cup of coffee, and give back, when you visit Moody Brews through Jan. 8. With every sale of a Pumpkin Spice Latte at Moody Brews, which serves Starbucks drinks, $1 goes to help protect the Pygmy Slow Loris' in the wild.
Cirque Joyeux Noel Dinner & Show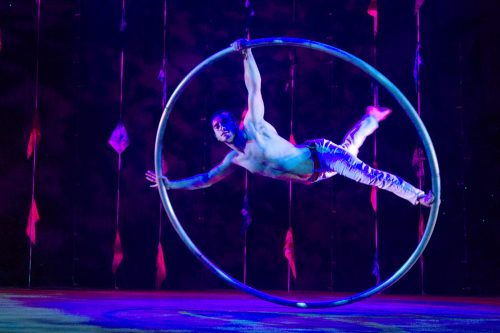 Enjoy a dinner and a show with Cirque Joyeux Noel, featuring award-winning performers including Christian Stoinev, a finalist of NBC's "America's Got Talent."
Witness the magnificent and the impossible…all in a circus winter wonderland. Marvel in soaring acrobatics, amazing aerialists and gravity defying feats while enjoying a holiday buffet dinner. And, take a stroll through the Moody Gardens Festival of Lights. ALL included at one great price!
The dinner and show run through Christmas day with doors opening and the buffet beginning at 6:30 p.m. The circus performance starts at 7:45 p.m. Enjoy Felipe Gonzalez's delicious cuisine and then sit back for a one-hour holiday circus spectacular. Complete Menu.
Cirque Joyeux Noel Dinner and Show tickets
And, don't forget about snacks. Our Festival of Lights trail features funnel cakes, kettle corn, soup, nachos, hot dogs, sausage on a stick, porkskins, mini donuts and Irish Cream shots and hot chocolate to keep you warm!
Wishing You and Yours a Very Merry Christmas!