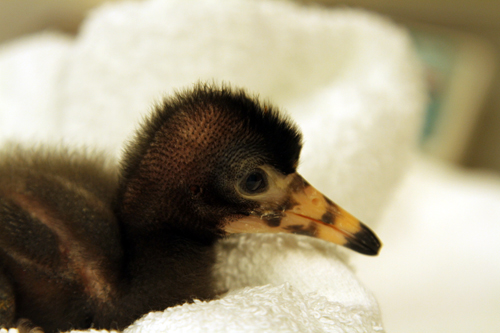 Let's give a shout out to the newest addition of our Scarlet Ibis family. Hatched on June 30, this adorable little fuzzball has been one of many Scarlet Ibis hatched in the Moody Gardens' Rainforest Pyramid.
Weighing in at 100 grams and standing several inches tall, this little cutie has dreams of flying. Months from being ready, the overly ambitious chick attempted flight, but sadly fell from its nest just days after hatching. Luckily, no major injuries occurred and it is now in the care of Moody Gardens' finest biologists, awaiting its next voyage.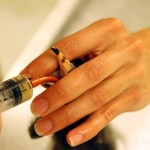 This endearing and very vocal chick loves its gruel, which is a liquid diet made up of fish, shrimp, pellets, water and vitamins which is hand fed five times a day. Biologists are hoping to introduce him to whole fish this week.
The gender of this hatchling is unknown and cannot be determined until much later in its life. While off exhibit, a feather will be collected and sent for lab work to determine its gender. Its bright red plume will not be visible until roughly eight months.
This little one will be hand raised and sent to our on-site learning place where it will become an educational ambassador.
Don't forget to check out our other free roaming birds in our Rainforest Pyramid.
Visit moodygardens.org for more information or click here for tickets.
Moody Gardens® is a public, non-profit educational destination utilizing nature in the advancement of rehabilitation, conservation, recreation and research.