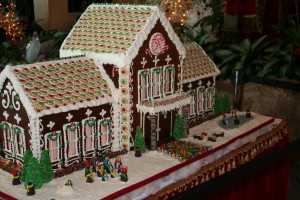 Talk about culinary creativity at Moody Gardens Hotel! Pastry Chef Becky Kastelz spent more than 40 hours building Penguin Manor (in honor of our wonderful penguins), a set of three gingerbread houses decorated with the season's most delicious candies .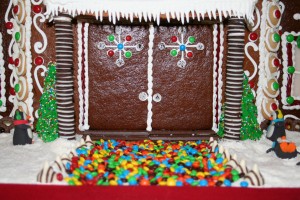 The three houses, made from 28 pounds of gingerbread (including 3 gallons of molasses) and sugar windows, are adorned with M&Ms, licorice, chocolate snowcaps, fondant candy canes, modeling chocolate wreaths, vanilla wafer cookies, and lots and lots of royal icing (over 20 pounds). The fences and balcony are chocolate-covered pretzels with jellybean gardens. An M&M driveway lined with chocolate kisses leads onto the lawn.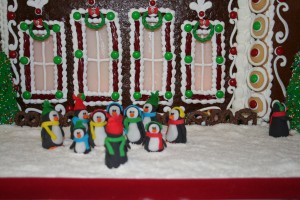 Fondant penguins enjoy the holidays with caroling, skating on a sugar pond, making snow angels in coconut snow, snowball fights, and decorating Christmas trees made of ice cream cones covered in royal icing and non-pareils.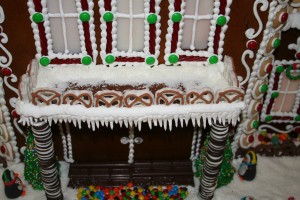 To protect the display from Galveston's famous humidity, the entire house and all decorations have been coated with non-edible lacquer.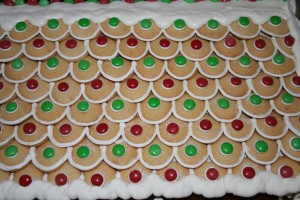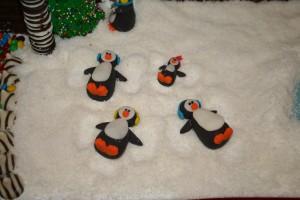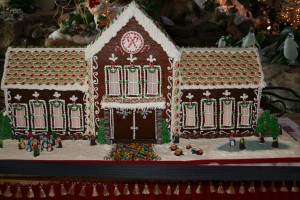 Come see it for yourself at the Moody Gardens Hotel lobby this holiday season!