Believe it or not the holidays have arrived at Moody Gardens! Holiday lights displays have been set up all around the property, holiday music is playing in employee offices and our giant Christmas tree is standing tall. We have a lot going on these next two months but don't worry, we've got your one-stop guide to holiday fun at Moody Gardens right here. So pull out your pen and paper and mark your calendars because you are invited to a variety of holiday events at Moody Gardens: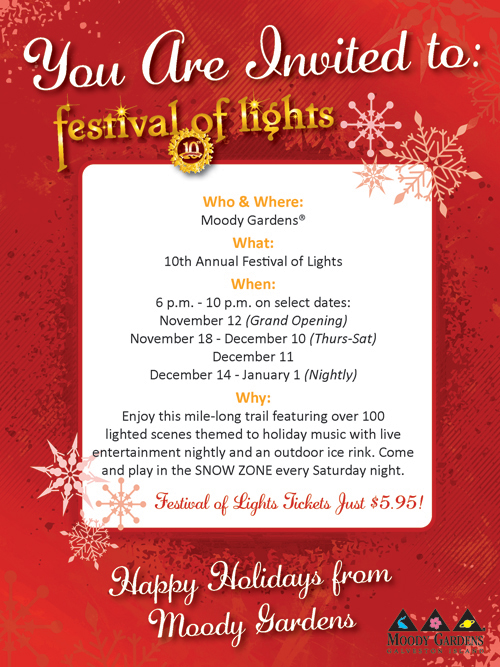 Looking for more Holiday excitement? Here are some more events coming up this holiday season at Moody Gardens:
MOODY GARDENS PRESENTS: HOME FOR THE HOLIDAYS GIFT MARKET
When: Nov. 25, 5-9pm, Nov. 26, 10am-9pm, Nov. 27, 11am-4pm
Where: Moody Gardens Convention Center
What: An extraordinary holiday shopping experience that will include a wide variety of jewelry, hand bags, Yellow Box, personalized gifts, clothing for adults and kids, holiday décor, quilts, linens, books for all ages, mosaics, embroidery, designer, florals and more!
Visit http://www.moodygardens.org/seasonal_fun/holiday_gift_market/ for tickets and more information.
IMAGINE CHRISTMAS: A HOLIDAY MUSICAL AND DINNER SHOW
When: December 15-December 27
Where: Moody Gardens Convention Center
What: Imagine Christmas combines inspiring music, beautiful dance and imaginative aerial acrobatics to tell the story of Christ's birth in a way that evokes child-like wonder, awe and amazement.
Visit http://www.islandstarlive.com/ for tickets and more information.