The giant river otter (Pteronura brasiliensis) is the longest of all the otter species that live throughout South America, but are concentrated along the Amazon River.   Giant otters, an endangered species, are sometimes referred to as Lobos del rio or 'River Wolf' and are considered to be a top apex predator.
Here at Moody Gardens we have two giant river otter sisters that are named "Ella" and "Dru." We work with our giant river otters in what is called protected contact which means we do not share the same physical space with them.  This protected contact is for our safety as well as the otter's when interacting with these strong and formidable animals. To learn more about the mysterious (and cute) giant river otters we talked to Paula the Assistant Curator at Moody Gardens.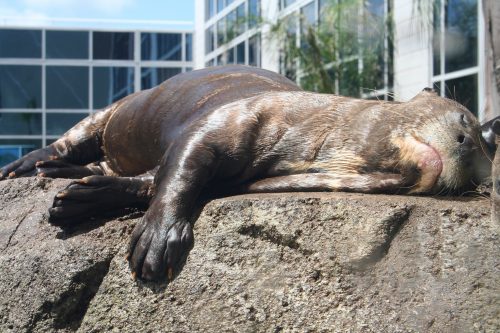 Q: Why can only one of our otters be out on exhibit at a time?
A: An otter family in the wild is typically made up of one mating pair and a litter or two.  Once the pups are grown and reach maturity, the females tend to leave to breed.  Ella and Dru are not able to be housed together on exhibit because adult females can be extremely territorial with each other.  With this being said, while they are in their off exhibit, in what we nicknamed their bedroom area, they have visual and olfactory communication with each other, but cannot be held together physically.
Q: What makes up the outdoor exhibit area?
A: Our giant river otter home at Moody Gardens was specifically designed for their aquatic and terrestrial lifestyle.  With 50,000 gallons of freshwater, sandy beaches and water slides, our girls make use of the complex and enriching environment.
Q: What do their "bedrooms" look like?
A: Their 'bedrooms' off exhibit were also specifically designed, with 3 rooms, a built-in swimming pool and the ability to heat the floors in order to provide top notch care.
Q: How long do the otters spend out on exhibit?
A: Daily they are shifted out onto exhibit multiple times a day through a random shift routine.  Sometimes they spend half a day each on exhibit, sometimes they are come in and out more than 3-4 times a day.
Q: What do we do to keep out otters active?
A: We offer a variety of training and enrichment opportunities to our two otters.  Our staff biologists train the otters at every feeding session which occur at least 2-3 times a day and often more on the order of 4-5 times a day.  It really just depends on how much fish they eat; we base their diet on consumption and feed anywhere from 1.5-2.5 kg of fish per otter per day.
Q: What type of fish do they eat?
A: Ella and Dru are fed a variety of fish including tilapia, trout, smelt, and catfish.
If you want to learn more about giant river otters check out our new giant river otter encounter. During your encounter our keepers will take you behind-the-scenes of the Rainforest Pyramid for the rare opportunity to meet our otters. While behind the scenes you can learn more about otter biology, conservation, and how these amazing animals are cared for in their private interior Otter Exhibit.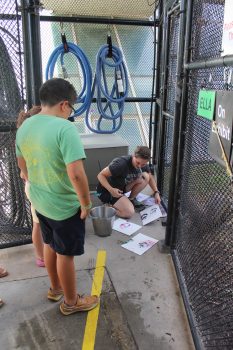 This 45-minute Otter Encounter is offered only on Saturdays at 1:30 p.m. Space is limited to only six guests per encounter and reservations are required the Thursday prior to your encounter date. Children under 12 must be accompanied by an adult at all times on the encounter and children under the age of six are not permitted to participate. Click here to buy your tickets.