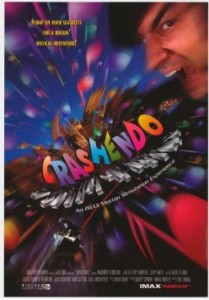 If you haven't caught a film at the Ridefilm Theater yet, then you are missing out on one exciting and memorable experience.
The technology of Ridefilm is the ultimate in high-impact and immersive simulation. When you get strapped into the 18-passenger ride, you are surrounded by a seamless 180-degree wraparound screen. The images completely encompass your peripheral vision, so you feel as if you are emerged into the film. The high-quality images and incredible sound system make you feel as though you are living the action!
Right now, the Ridefilm Theater is showing the action packed Crashendo film! The Ridefilm experience begins perched atop a hill, and the viewers appear to be attached to a giant bungee cord, the main character Alfred, and his grand piano! Suddenly, you are rocketed down the hill into the hazardous streets of San Francisco, bouncing around like crazy! As you pinball through a drum factory, you end up crashing onto center stage at the Big Concert Hall! You have arrived just in time for the finale!
Crashendo is a four-minute film released in 1996, and has been exciting viewers every since. The film poster tells riders to, "Strap on your seatbelts for a rockin' musical adventure!"
Showings start at 1 p.m. and run until 5 p.m. For our guests' safety, all riders must be at least 42 inches tall.
Individual ticket prices for the Ridefilm Theater are $9.95 for adults and $8.95 for children and seniors. However, the Ridefilm Theater is included in Moody Gardens Value Passes, so be sure to check out ticket prices here.
Include the Ridefilm Theater experience during your next family weekend getaways to Texas. Once you get here, you'll need a place to rest your head! Check out the Moody Gardens Hotel, one of the best places to stay in Galveston.