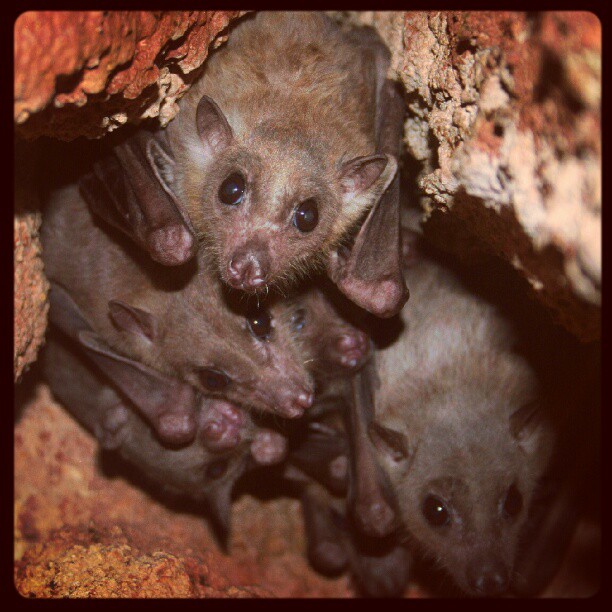 Each year, Moody Gardens makes an effort to bring attention to parts of the world and certain animals in need of support. This past year was the Year of the Bat, as declared by the United Nations. Throughout the year, a variety of events were held at Moody Gardens to bring attention to this important animal, which is often overlooked.
Moody Gardens to raised money to donate to Bat Conservation International (BCI). BCI conducts and supports science-based conservation efforts for bats around the world. They work with many other organizations to combine research, education, and direct conservation to maintain bats' environments and survival far into the future.
One of the first events at Moody Gardens was the Bats Are Doin' It: A Fundraiser for Animal Lovers.  The event was held in February at the Moody Gardens Visitor Center and tickets ranged from $50-$90. Proceeds from ticket sales (including raffles) and donations were donated to Bat Conservation International. The event also brought attention to the ecological importance of bats, such as eating harmful insects and pollinating crops, such as bananas and mangoes. The purpose of the event was not only to raise funds, but also to increase appreciation for the misunderstood species.
A second Year of the Bat event held at Moody Gardens was the Bats for Bats Fundraiser. Starting in October and going on for several weeks, Moody Gardens held online auctions of sports memorabilia. Items such as a Texas Rangers' Michael Young autographed photo were sold and the proceeds donated to BCI.
Now that 2012, the Year of the Bat, is over, we are looking forward to any future conservation efforts Moody Gardens will be making!
Come visit us on your next family weekend getaways in Texas, and learn more about the animals of the Aquarium Pyramid and Rainforest Pyramid. Be sure book your stay at the Moody Gardens Hotel.