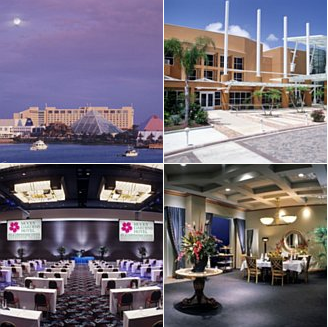 Moody Gardens is the perfect place for your upcoming special event because we make the planning convenient and easy! We are here every step of the way to make sure your plans run smoothly and your guests have a memorable experience for all the right reasons. Planning an event with Moody Gardens is easy because of our professional staff, hospitality, and available and versatile space.
Professional Staff: Our staff knows the ins and outs of Moody Gardens and has all the answers to your questions about planning an event with us. You will encounter nothing but complete professionalism when working with everyone from the catering department to the Convention Center Director. Our hospitality and client services have earned us a reputation as the premiere meeting, event, and recreational destination. Our staff will attend to your every need, all under one roof.
Services: For weddings, our professional staff can handle details such as floral design, entertainment options, and food and beverages! For large events we have state-of-the-art lighting and sound equipment, seating for over 5,000, and a large, covered parking garage.
Available and Versatile Space: We have over 100,000 square feet of available space for your special event. Not only is there tons of space, the space is so versatile you won't have any problem finding the exact area to fit your needs. You can have a ballroom style expo center, or a more intimate setting for smaller get-togethers. For business events, we offer a fully equipped business center available 24 hours a day. Our staff will handle all the details of creating the perfect space for your special event, whether it's an intimate dinner, social gathering, or a convention for a few thousand people.
Start planning your event online! Get started here.

While you're here for your special event, stay at the Moody Gardens Hotel and check out our popular attractions, such as the Aquarium Pyramid and Rainforest Pyramid.