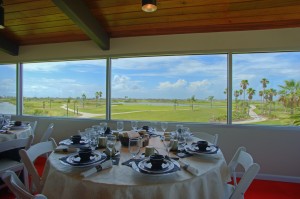 Planning to throw a fantastic holiday party this season? Want it to be one that people can't forget? Would you prefer someone else to do the decorating, cooking, and cleaning? Then you should throw your holiday party at Moody Gardens! The Moody Gardens Golf Course banquet room is perfect for creating the ultimate holiday party. We can bring the holiday spirit to all of your guests! Read on to find out why you should throw your party with us:
Choose from two different holiday party packages at Moody Gardens Golf Course:
Texas Two-Step Celebration: This party package includes a BBQ buffet featuring sliced brisket and sausage, baked beans, potato salad, and Texas toast. Price is $35 per guest.
Yuletide Fiesta: Upgrade to a beef and chicken fajita buffet featuring southwest pinto beans, Spanish rice, peppers and onions, flour tortillas, pico de gallo, sour cream, and guacamole. The Yuletide Fiesta package is $40 a person.
Each buffet includes cookies for dessert; iced tea, water, and 2 drink tickets for beer, wine, and soft drinks.
We cater and provide a full bar service for your parties. Our experienced and professional event staff will take care of all your needs from set-up to clean up. Our banquet room can seat up to 80 people and there is on site free parking. Talk about stress-free party planning!
All prices are inclusive, and there is a 20-person minimum. For more information contact Anja Borski at 409.683.1200 or aborski@moodygardensgolf.com.
Moody Gardens Hotel and Attraction is the perfect holiday destination for events in Galveston with our holiday lights festival. Start planning your holiday party with us today, and hurry, because rooms will get booked quickly.
Don't miss out on our special holiday offer. Receive a Festival of Lights Arctic Package for only $17. We also have special holiday deals going on at the Moody Gardens Golf Course and the Spa at Moody Gardens!