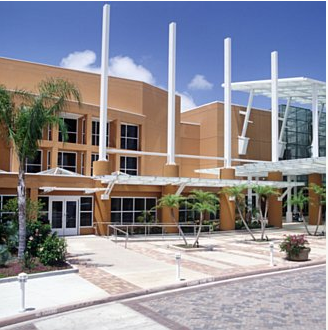 The Moody Gardens Convention Center provides the perfect destination for either business or pleasure. The location rests on over 200 acres of tropical gardens, making any event you hold here a memorable experience! Not only do we provide ample amounts of meeting and event space, but a four-diamond resort to accommodate your guests as well.
No matter what kind of event you plan on putting together, the Moody Gardens Convention Center has you covered. With over 100,000 square feet of combined meeting spaces, and a 60,000 square foot barrier-free ballroom-quality exposition center with over 5,000 available seats, you will have plenty of space to create the perfect event. Our meeting spaces can accommodate from the grandest of galas to intimate events.
The exposition center has floor boxes every thirty feet complete with water, power, air, and data drains. It also houses state-of-the-art lighting and sound equipment so your guests will not be disappointed with your event.
The Moody Gardens Convention Center has two onsite business centers, making your event more efficient and convenient for company events. With a covered parking garage that can hold up to 1,000 cars, your guest will have easy access to the facilities they need.
Our full-service resort features 428 luxurious rooms and suites, so when the attendees are ready to rest their heads, their accommodations will not be lacking in comfort and service.
Moody Gardens Convention Center has built a reputation for being a premiere destination for recreation, meetings, and events. No matter what reason you need to use our space, our world-class property and professional staff is here to provide you with the best hospitality and client service in the business.
When you aren't joining us at Moody Gardens for business purposes, come see us for your next family weekend getaway in Galveston! The Moody Gardens Hotel is one of the best places to stay in Galveston!