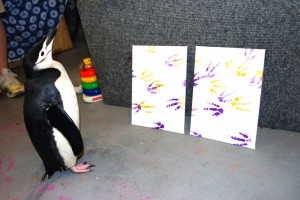 Get to know the penguin residents at Moody Gardens. With the Penguin Encounter program, you will get the opportunity to get up close with the penguins and see what goes on behind the scenes! Here are valuable facts about the Penguin Encounter:
The program lasts for 45 minutes
 Guests start at the front of the exhibit and move on to see the back of the exhibit and the penguin food preparation kitchen
 A Moody Gardens biologist will teach you about penguin biology, training, enrichment, and care
 Guests get to watch a penguin create art as part of an enrichment activity
 Tickets are $50 a person
 Children 3 and under are free
 Tickets are sold on a first come, first serve basis
 Guests must also purchase admission to the *Aquarium Pyramid
 Children 12 and under must be with an adult
 The program is at 1 pm on Saturdays and Sundays
 Depending on the mood of the penguin, you may be able to touch them!
 It's about 45 degrees in the Penguin Encounter area, so dress accordingly
 The penguins love to pose for your pictures
Private Penguin Encounters are also available for up to four people. Private encounters can be scheduled based upon guest's convenience and availability. Admission is $350 per group and includes admission to the Aquarium Pyramid, and a unique piece of penguin art.
The Seal and Penguin Experience shows guests what it's like to be a South Atlantic and North Pacific exhibit keeper for a day. The experience is six hours long and allows various activities such as feeding penguins, and helping out the biologists. The $175 (per person) package includes admission to the Aquarium Pyramid, lunch, a photograph, and a unique piece of penguin art. Participants must be 16 years or older and a maximum of three participants. Be sure to wear closed toe shoes, comfortable clothes, and reserve your package two weeks in advance.
Moody Gardens is the number one place this season for holiday events in Galveston. Join us for more kids activities and family fun. Be sure to keep up with our Moody Gardens blog to learn more about Houston holiday events, the Moody Gardens Hotel, and the Moody Gardens Golf Course!