Are you still on the hunt for Easter plans? We've got you covered! Join us for our annual Easter in the Gardens this Easter Sunday from 11 a.m. to 3 p.m. at Moody Gardens. We are also hosting not one, but two delicious Easter buffets that the entire family can enjoy!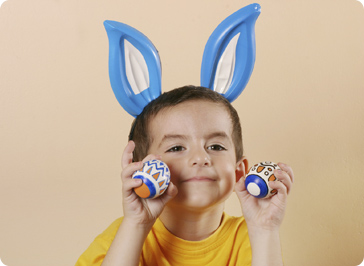 Easter in the Gardens:
We have lots of exciting activities for the kiddos to enjoy! Starting with our very own petting zoo where children can get up close and personal with some cute and cuddly animals such as chicks, bunnies and miniature ponies. The fun doesn't stop there, there will also be arts & crafts, music, face painting and games & prizes.
Whatever you do, just make sure you don't miss one of our two Easter Egg Hunts where children 12 and under can enjoy the pursuit of brightly colored, candy-filled happiness (otherwise known as eggs!). Egg hunts will take place at noon and 2 p.m. in the Oleander Bowl. Participants are invited to have their picture taken with the Easter Bunny inside the Moody Gardens Hotel so make sure to bring your camera!
Easter Buffets:
In addition to all of the activity outdoors, guests can enjoy a first-class meal at the Easter Sunday buffet in both the Garden Restaurant and at the Moody Gardens Hotel. While walk-ins are welcome at the Garden Restaurant, reservations are required for the Hotel buffet and can be made by calling 409-741-8484, ext. 4465.
The Garden Restaurant buffet will feature shrimp Victoria, pecan-crusted mahi-mahi and chicken le garde on a bed of creamy marsala with an assortment of sides, breads and desserts for only $21.95 for adults, $17.95 for seniors, and $11.95 for children (children 4 and under are free with complimentary adult purchase). Click here for a full menu and more information or call 1-800-582-4673 extension 4238.
The Moody Gardens Hotel will serve chilled shrimp and crab claws, roasted leg of lamb, prime rib of pork, carved roast sirloin and herb and parmigiano tilapia – all with an assortment of sides, salads and desserts for $38.95 for adults, $29.95 for seniors and $17.95 for children ages 4-12 (children under 4 are free). Click here for a full menu and more information or call 409-741-8484, extension 4465.
We wish everyone a happy and safe Easter and we hope you can all join us! If you have questions, comments, concerns, fun Easter stories/plans/traditions you want to share, then don't hesitate to leave us a comment below!