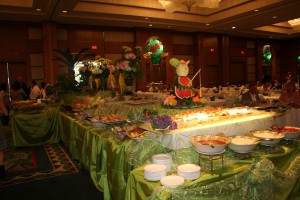 Easter in the Gardens is more than just the annual Moody Gardens Easter Egg Hunt. While children will be spending their time running around the Oleander Bowl collecting colorful eggs, there is also an Easter Buffet feast being served. Think of all the time and stress you will save by not cooking a giant Easter Sunday dinner for your entire family or cleaning it up! Moody Gardens is giving you the opportunity to spend less time cooking and cleaning and more time with your family.
Sit down with family and friends this Easter Sunday for a lavish buffet in either the beautiful Moody Gardens Hotel Ballroom or the Moody Gardens Garden Restaurant.
Easter Buffet – Moody Gardens Hotel 
From waffle and omelet stations to gulf shrimp and roasted leg of lamb, there's something for everyone at this extraordinary buffet. Don't forget the dessert table which will include french pastries, cookies and cakes, chocolate mousse, cheesecakes, caramel flan, chocolate amaretto bread pudding and much more!
Adults: $42.95
Seniors: $32.95
Children: $19.95
Seating from 11:00 a.m. until 3:00 p.m.
Click here for full menu. For reservations, please call 409-683-4465

Easter Buffet – Garden Restaurant
You won't be disappointed with the variety of options at this delicious buffet! You'll have a variety of soups, salads and entrees to choose from, including Pasta del Mar, Chicken Cordon Bleu or a Carved Roast Sirloin. Kids can also enjoy some of their favorites including macaroni and cheese or chicken tenders with french fries. A variety of desserts, assorted rolls and fresh baked breads will also be offered.
Adults: $24.95
Seniors: $17.95
Children (5-12): $11.95 (Children 4 and under are complimentary with adult purchase)
Served from 11:00 a.m. to 4:00 p.m.
Click here for full menu. For reservations, please call 1-800-582-4673 ext. 4238