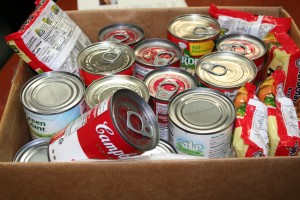 Do you love charity and the Moody Gardens Festival of Lights? You're in luck! Every Friday night, if you bring a non-perishable food item, you can get 2 for the price of 1 admission! Moody Gardens is teaming up with the Galveston County Food Bank to provide for those who have fallen on hard times this holiday season.
The Galveston County Food Bank is an interfaith community-based organization established to receive surplus food from generous institutions willing to provide for those less fortunate than themselves. Their program is called Gleanings From the Harvest, which is a food procurement and distribution network. It provides food to those who most need it; this includes the destitute and the families in Galveston County who are considered the "working poor".
Moody Gardens loves charity and would like your help in feeding those in need around the Galveston area. Please consider stopping by our Festival of Lights Friday Food Drive to be a part of this great charity. We promise you won't be disappointed! Not only will you feel like you've contributed to something great, but you'll also be able to enjoy our famous Festival of Lights at a discounted rate!
Our Festival of Lights is a great Houston holiday event for those looking for a family weekend getaway in Texas. We offer more than 1 million lights within 100 sound-enhanced animated light displays. But that's not all! We also offer live entertainment every night, a delicious Festival of Lights Buffet that you just can't miss, and the area's only outdoor ice skating rink. While you're visiting, take a picture with Santa or watch a holiday film in one of our theaters. If you've visited Moody Gardens before, we've added something new this year! Enjoy snow tubing down the Arctic Slide. All of these attractions are open every night the Festival of Lights is open. Don't forget, you can make a weekend of it! We offer one of the best family friendly hotels in Texas.
So put Moody Gardens Festival of Lights Friday Food Drive on your calendar. We promise you won't be disappointed! For more information on our Holiday Events, visit us here.