Coming to Moody Gardens for the holidays is an enchanting experience that offers worlds made of ice, lights, and adventure. Part of the enchantment is due to the collection of pandas, jellyfishes, and cherry blossom tree lanterns that we have along Hope Boulevard.
These lanterns are just some of the many that we have in honor of the Chinese Lantern Festival. The connection between the Chinese Lantern Festival and Moody Gardens is rooted in our ice carvers that come to us all the way from Harbin, China. Our skilled and talented ice carvers came to America sharing their cultural with staff and guests alike and we thought it was only fitting to represent them on their property.
The Lantern Festival has been part of Chinese New Year celebrations since the Han Dynasty of The Chinese Empire (206 BC- 221 AD). The Chinese Lantern Festival is usually held on the 15th day of the first month of the lunar calendar and marks the end of New Year festivities. The people of the Han Dynasty believed that fire contained mystical properties that would ward off evil and prevent natural disasters as well as bring blessings such as a bountiful harvest to the people.
Over the past centuries the lantern festival has evolved and now features lanterns in all shapes and sizes. These modern lanterns come in elaborate sets of vibrant color, dazzling lights and eye-catching design like the ones found on our property.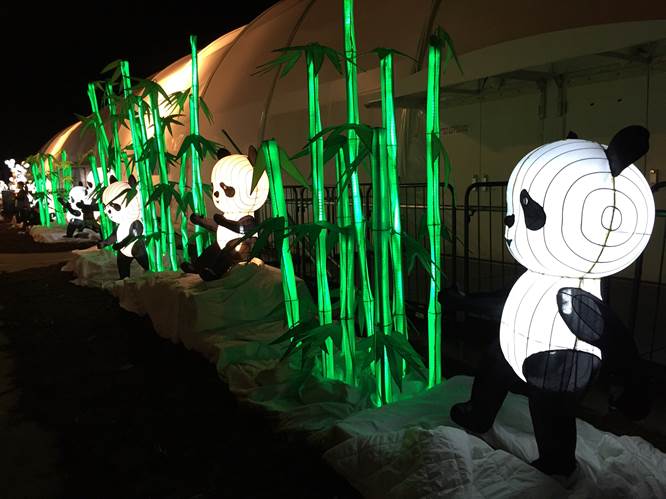 When you come to Festival of Lights be sure to check out this unique cultural aspect that also makes for the perfect backdrop for photos with our playful pandas in a bamboo forest!
The Festival of Lights is a mile-long trail of more than 1 million lights. It runs daily until Jan. 10.
Admission to the Festival of Lights is $10.95, including ice skating admission. Guests can bring their own skates or skate rental is available for $7 with the purchase of a Festival of Lights ticket.
A frosty new addition to the Festival of Lights this year is ICE LAND: Ice Sculptures with SpongeBob SquarePants. Being the only holiday ice exhibition on the Gulf Coast, this vast and magnificent display of 900 tons of ice creations has transformed Moody Gardens into the largest holiday destination in the Southwest. Chilled and held at a temperature of 9 degrees, guests can witness these works of art through January 4. Admission to the exhibition is $26.95 for adults and $21.95 for seniors and children.