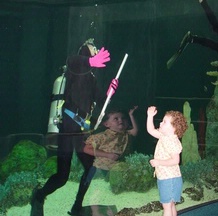 One of the easiest ways to get involved with Moody Gardens is to become one of our many valued volunteers! As a public, non-profit organization, we really count on our volunteers to keep Moody Gardens awesome.  We believe our volunteers are essential in making sure each and every guest has an unforgettable experience with us.
Volunteers offer help in a variety of departments throughout all of Moody Gardens. Volunteering with us is not only a help to the community, but also an incredible opportunity to learn more about Moody Gardens, nature, and conservation. We are very flexible with our volunteering schedules, so you have the opportunity to volunteer as much or as little as you want! We appreciate any amount of time you are willing to share with us.
The current volunteer opportunities at Moody Gardens are for:
Individuals
Divers
Interns
Teenagers
Special Events
Volunteers are required to attend a brief volunteer orientation in order to be better prepared for volunteering at Moody Gardens. The orientation will teach you what you need to know in order to have a successful volunteering experience. The orientations are typically held on Saturdays, so even if you work or attend school, you can still make it.
To find out when the next volunteer orientation is, check with Volunteer Services. You can find out more information by emailing the Volunteer Coordinator at volunteers@moodygardens.com or calling 1-800-582-4673, ext. 4108. The Volunteer Coordinator would be happy to answer any questions you have about volunteering or the application process.
You can also sign up today to help out with the famous Festival of Lights! We have thousands of visitors each day coming to see the millions of lights, drink hot cocoa along the trail, and enjoy the live entertainment, so we need more helping hands!
When you aren't volunteering, be sure to visit Moody Gardens for fun Galveston events. Don't miss out on the Aquarium Pyramid this season!