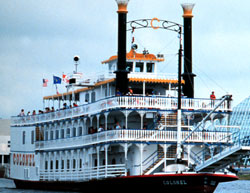 Next time you visit Moody Gardens, don't miss out on taking an hour-long cruise around the Offatts Bayou in an authentic replica of an 1800s-style paddlewheel! The paddlewheel holds up to 800 passengers and offers cruises year-round.
You can catch an hour-long cruise across the beautiful Offatts Bayou throughout the week.
Schedule
Tuesday through Friday at 1 p.m.
Saturday and Sunday at 1 p.m. and 3 p.m.
Closed on Monday
Pricing
Adults: $10.95
Children/Seniors: $8.95
Have a birthday, anniversary, or special occasion to celebrate? Then make your reservations for the Colonel Paddlewheel Boat Dinner Cruise! They are scheduled the second Saturday of each month, and allow guests to enjoy the beautiful views of Offatts Bayou while also enjoying a delicious dinner buffet, dancing, and a cash bar.
The charming paddlewheel boat offers a variety of menus for our dinner cruises, from cocktail parties to full dinners. We also like switching up the entertainment, such as Dixieland jazz bands, dance bands, pianist, strolling violins, banjos, and much more.
Upcoming Dinner Cruises:
March 9, 2013
April 13, 2013
May 11, 2013
Reservations must be made by the Wednesday before the scheduled dinner cruise. Call 1-800-582-4673, ext.4419 Monday through Friday between 8:30 a.m. and 5:00 p.m. for reservations and more information. If you want to bring your whole family or a group of friends, we also offer group rates.
The Colonel Paddlewheel Boat offers two luxurious private party rooms, The Texas Room and The Galveston Room. Private parties are available during the regularly scheduled dinner cruises in our climate-controlled rooms. Each room has a large dance floor and bar facilities to get the party started. There is an additional bar on the Promenade Deck. Both private party rooms are installed with stereo music and a sound system to cater to your entertainment needs. You can invite up to 240 guests in The Texas Room and 200 in The Galveston Room!
We look forward to seeing you at the Colonel Paddlewheel Boat on your next family weekend getaway to Texas! Be sure to rest your head at the Moody Gardens Hotel, one of the best places to stay in Galveston.