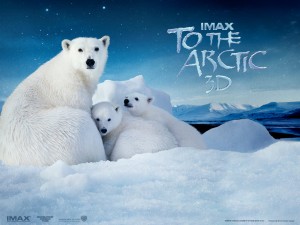 Feel like you are a part of the movies in the Moody Gardens 3D Theater. Once you put on your 3D glasses you will experience the realistic three-dimensional images projected onto a gigantic six-story screen.
This season experience the documentary, To The Arctic 3D. This heartfelt film takes you through the journey of a mother polar bear and her two seven-month old cubs across their icy home. It's a story of love, survival, and adventure on the majestic Arctic. The beautiful scenery and captivating images are presented in breathtaking IMAX® 3D, giving viewers an up-close view of the immense glaciers, massive snow-bound peaks, and spectacular waterfalls.
While the imagery of To The Artic 3D is incredible, so is the story that accompanies it. Meryl Streep brings beautiful narration to this tale of a land far away with exotic animals you wouldn't normally be able to observe in their natural habitat.
To The Arctic 3D is the perfect film for you and your family to enjoy this season. With the 3D imagery, you will feel as if you are exploring the Arctic yourself, but without the below-freezing temperatures! The family friendly story is pleasing to parents and kids alike. The documentary is also an educational experience, and an opportunity to learn more about Earth's vast variety of environments.
To learn more about To The Arctic 3D check out the official trailer here.
Want to see this awesome documentary and go to the Festival of Lights? Then check out our Limited Time Festival of Lights Arctic Package for only $17! The package includes admission to the famous Festival of Lights, the Aquarium Pyramid, and the To The Arctic 3D documentary.
Moody Gardens presents the biggest holiday lights festival in the region, with family entertainment and great holiday discounts. Be sure to check us out for your Galveston and Houston holiday events this year, and don't miss out on our latest holiday deals for your Christmas events in Texas!