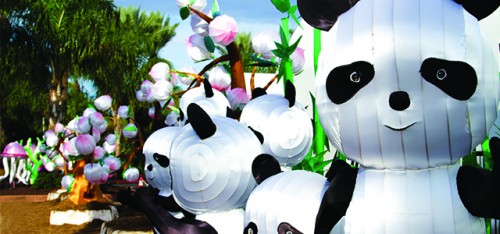 In its 13th year, the Moody Gardens Festival of Lights continues to add spectacular displays for its guests. This year, visitors can enjoy truly unique displays – Chinese lanterns.
In honor of the Chinese Lantern Festival, Moody Gardens has lantern displays of pandas, jelly fish and trees. The lanterns are lined along the new ICE LAND: Ice Sculptures with SpongeBob SquarePants tent for all guests to admire and take pictures with.
The Lantern Festival has been part of Chinese New Year celebrations since the Han Dynasty of Chinese Empire (206 BC- 221 AD). The people of the Han Dynasty believed that fire contained mystical properties that would ward off evil and prevent natural disasters as well as bring blessings such as a bountiful harvest to the people. The first lantern festivals were inspired by these beliefs.
Usually held on the 15th day of the first month of the lunar calendar, the lantern festival marks the end of New Year festivities.
The lantern festival has evolved over the centuries. Today, the modern lanterns come in all shapes and sizes and are featured in elaborate sets of vibrant color, dazzling light and eye-catching design.
Come enjoy these displays and all of the other beautiful displays at the Festival of Lights, open daily until Jan. 3.