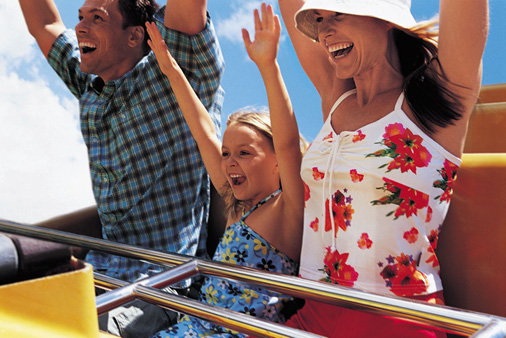 Obviously, the most popular attraction in Galveston is Moody Gardens. Our Aquarium Pyramid, Rainforest Pyramid, Golf Course, and more have been attracting locals and island visitors for years. However, while we are proud of Moody Gardens there are other great attractions to visit while vacationing (or living) in Galveston.
Galveston Island Ferry: The ferry is one of Galveston's most popular attractions. The ferry is on Highway 87, and visitors can park and ride the ferry or drive their cars aboard. The ferries are free and run about every fifteen to twenty minutes.
Pier 21 Theater: Want to learn more about Galveston's rich history, or the historical hurricane in 1900? The Great Storm is a multimedia presentation that gives visitors a look at the devastating storm through a multi-image documentary. The 27-minute film shows the story through actual accounts from diaries and letters of survivors.
Galveston Island Historic Pleasure Pier: The famous pier is the perfect spot to take your family for a fun-filled day while you're in Galveston. The pier has been transformed into an amusement park, with tons of rides that soar over the Gulf of Mexico. There are also plenty of shops and famous restaurants, such as Bubba Gump Shrimp.
Seawolf Park: This historic park is a memorial to the USS Seawolf, which was a United States Navy submarine mistakenly sunk by U.S. Navy Forces during World War II. The park also has a popular picnic area, and you and your family can fish off of the well-maintained pier.
These attractions are only a handful of the fun experiences you can have in Galveston. Don't forget to spend a day on the beaches, hang out along the Seawall, or go shopping in the Strand. To learn more about Galveston and what it has to offer visit www.galveston.com.
If you're looking for family weekend getaways in Texas, then look no further than Galveston Island. Moody Gardens Hotel is one of the best places to stay in Galveston, and one of the best places for entertainment! We look forward to seeing you soon.