In its third year, the brand new theme of ICE LAND: Ice Sculptures, A Caribbean Christmas has already become a big hit so far this holiday season. Don't miss your chance to explore the depths of the Gulf of Mexico in a massive 28,000 square foot structure that has been set to nine degrees! This year's attraction features gorgeous ice replicas of the Flower Gardens National Marine Sanctuary, the R/V Manta, a submarine and a massive three lane Oil Rig Ice Slide! This year's theme also includes Shivers Ice Bar, Galveston's brand-new iced out watering hole.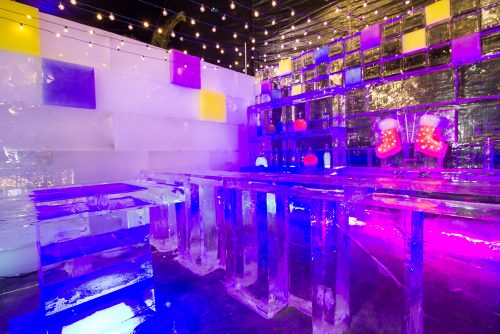 If you're looking for a one-of-a-kind experience at a great price join us for one of our Value Days! Value Days are Sunday – Thursday (excluding Thanksgiving Day) now through December 15 and January 1-5 when you can receive a discount of $5.00 off of our ICE LAND attraction!
ICE LAND will offer a unique holiday experience for the entire family and will be open through January 8. Admission for adults is $26.95, $21.95 for seniors and $15.95 for children. Kids 3 and under are free.  A VIP Guided Experience will also be available Sunday through Thursday with front-of-the-line access, a guided tour through ICE LAND, hot cocoa, souvenir family photo and admission to Festival of Lights. Special packages are available for groups of 20 or more.
For more information call 1-800-582-4673 or visit www.moodygardens.org .