By Leah Boyd
Moody Gardens News
There are many things 8-year-old Reaghan Velasquez is unable to do being paralyzed from the calves down. This weekend, she found out water skiing isn't one of them.
The Manvel third-grader was all smiles Saturday afternoon in Galveston as she traded her walker for water-skis for the first time. With excitement, she took off on Offatts Bayou, experiencing a moment of freedom she'll likely never forget.
"It's nice to see her happy and able to do things independently," said Renae Velasquez, Reaghan's mother. "She's limited in so many activities, but not today."
Reaghan was one of about 100 participants in the 20th annual Moody Gardens Adaptive Sports Festival. The event provides people with disabilities free water sports opportunities through the use of adaptive equipment.
Along with water skiing, participants were able to kayak, sail, hand paddle and ride pontoon boats along the Moody Gardens property. The event was sponsored by Moody Gardens and staffed almost entirely by volunteers.
"People with traumatic brain disorders or whatever disability they are here for don't always get an opportunity to do something like this," said volunteer Shelby Dill of Bayou Vista. "I'm really glad Moody Gardens does this."
Sail and pontoon boats were provided by private donors in the Kemah area. The adaptive water-skis were provided by Texas Adaptive Aquatics in Huffman.
Roger Randall, president of Texas Adaptive Aquatics, said his equipment comes with different parts, such as seats, beginner boards and safety rails, which allow him to adapt water-skis to each person's abilities.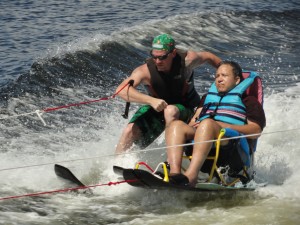 "I've been doing this since 1985," Randall said. "It's the excitement of seeing the smiles on their faces. I took out a guy today who has severe mental retardation – water skiing was something he never thought he'd be able to do."
Changing the perception of what people with disabilities can do is exactly what Moody Gardens had in mind when starting Adaptive Sports Festival 20 years ago. Moody Gardens Marketing Director Jerri Hamachek said the event originated as part of the Moody Gardens Hope Therapy program, which for many years offered rehabilitative horseback-riding to mentally and physically disable individuals.
Today's Hope Therapy is centered on horticultural therapy – although the program has not been active since Hurricane Ike – and offering special events, such as Adaptive Sports Festival.
Hamachek said the festival Saturday was just one way Moody Gardens works to give back to the community.
"This event is truly meaningful for us," Hamachek said. "I think it's just as important to us as it is to the participants."
For more information on Moody Gardens, visit www.moodygardens.org. To learn more about Texas Adaptive Aquatics, visit www.taasports.org.