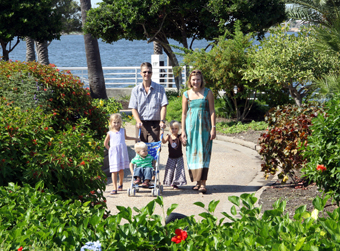 In celebration of its mission of conservation, Moody Gardens will feature free presentations, activities and fun, as well as special discounts this Earth Day weekend, April 20 and 21.
Join the Galveston County Master Gardeners in the Herb Garden by the Discovery Pyramid® to learn about easy gardening tips on Texas butterfly gardens. Guests can also pick up a homemade pot and learn how to make one of their own with materials found around the house. Children can enjoy plenty of activities including make-and-take butterfly crafts and recycled seed starters. In the Visitors Center, the Oleander Festival will feature more than 60 varieties of oleander flowers.
At the Aquarium Pyramid, Moody Gardens biologists will be holding special keeper presentations throughout both days. Visitors will be amazed by the massive seals as they are rewarded with fish for completing training exercises at 10:30 a.m. and 2:15 p.m.
Biologists will begin penguin feedings at 11:00 a.m. and 3 p.m., so families can adore and spot the newest King penguin, Watt. In the South Pacific exhibit, biologists will suit up and dive in at 11:30 a.m. to feed sting rays, sharks and more than 200 species of fish.  In the one million-gallon Caribbean tank, guests can watch divers feed the tropical fish, sharks and barracudas at 2 p.m.
As guests tour the Rainforest Pyramid, the Society for the Advancement of Volunteer Youth group (SAVY) will have educational carts out to teach visitors about the importance of conservation and preservation. At 11 a.m. and 3 p.m., biologists will release beautiful butterflies in their netted exhibit on the top canopy of the Rainforest Pyramid. Guests can also take pictures of the newborn Prehensile Tailed Porcupine, before heading over to the Ocelot's exhibit for a keeper presentation at 1 p.m.
The Earth Day activities and Oleander Festival are open from 10 a.m. to 4 p.m. on April 20 and 21, and admission is free to the public. A special $24.95 combo pass to the Aquarium and Rainforest Pyramids will be available during the festival. For more information, call Moody Gardens at 800-582-4673 or visit www.moodygardens.org and www.oleander.org.