After traveling halfway around the world, a team of internationally-acclaimed Chinese ice carvers made their way to Galveston's Moody Gardens to create holiday and animal themed sculptures from two million pounds of ice.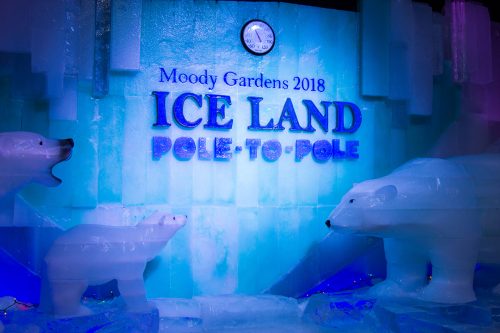 The team of 25 master carvers will spend the next few weeks sculpting ordinary 300-pound blocks of colored and clear ice into works of art and more as they create ICE LAND: Pole-to-Pole, opening November 17.
This year's ICE LAND theme takes guests on a journey from the North to South poles. The CAA Ruijing Ice Carving Team will even create a giant ice slide that will take guests on a glacial journey. Guests will encounter polar bears, penguins, humpback whales, snowy owls, walruses and of course, reindeer – all hand-carved out of two million pounds of ice inside a 28,000 square foot insulated tent structure chilled and maintained at nine degrees. Shiver's Ice Bar also returns to ICE LAND this year for guests to enjoy ultra-cool holiday spirits.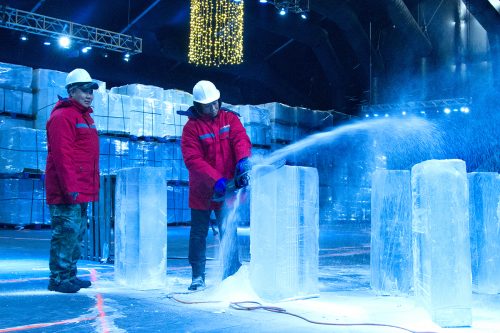 ICE LAND: Pole-to-Pole will be open from November 17 through January 6.

Guests who want an ultra-chill behind-the-scenes look at how ice carvers transform two million pounds of ice into the towering, colorful sculptures seen in the finished ICE LAND can sign up for the exclusive Ice Carver VIP Experience offered daily through November 10 from 10 a.m. to 1 p.m. The $199 package allows guests access to see the ice carvers in action. Guests will also go behind-the-scenes at the Aquarium Pyramid to meet a real penguin and enjoy lunch with the Ice Carving Team. Advance reservations are required and can be made by calling 409-683-4375.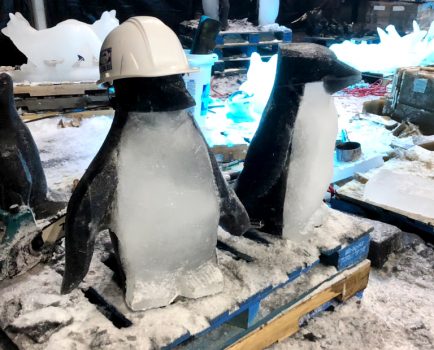 For more information on ICE LAND, or any other Moody Gardens' holiday attractions, call 409-744-4673 or click here.