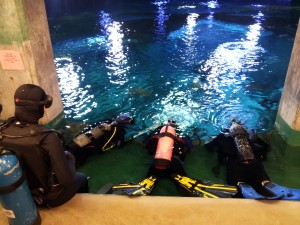 The National Association of Black Scuba, or NABS, hosted another successful year for the Youth Educational Summit. For this year's 9th annual summit, these kids were given the opportunity to visit Moody Gardens, an educational research destination in Galveston, Texas. In conjunction with NOAA, National Oceanic and Atmospheric Administration, young adults ages 12 to 18 travel throughout the state to learn about marine life.
Youth participating in the Summit toured the Aquarium Pyramid at Moody Gardens and received behind-the-scenes access. Each student was then able to pilot a mini-RO V, remote operated underwater vehicle, in the South Pacific exhibit. NOAA staff and Moody Gardens' associates were able to educate the benefits of the mini-ROVs and its role in the marine environment.
These activities encourage young adults to broaden their horizons beyond a college experience to include diving and participating in these organizations, noted Chanel McFollins, a four-year member of NABS.
On a deeper and more intimate level, two of the older youth, both certified and experienced divers, participated in a dive session. The two suited up in and swam into the Aquarium Pyramid's largest tank. Moody Gardens Aquarium Pyramid is one of the largest on the Gulf Coast, featuring four distinct ocean environments.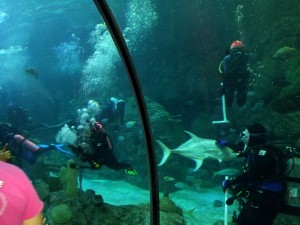 Holding more than 1.5 million gallons of water, the two NABS Summit divers swam in the tank with sharks, tunas and barracudas. On the other side of the glass, fellow group members wave from behind the acrylic tunnel with smiles across their faces.
"This was a way for me to share my knowledge, my job and the fun things I get to do with someone else," said Elizabeth Foster, Moody Gardens' Dive Safety Officer. "It was a way to give an opportunity to someone who wouldn't have otherwise been able to have these experiences."
The mission at NABS is to bring together youth with an interest in the marine sciences; providing them with educational experiences that enhance their knowledge of and respect for marine life, while promoting safe and skilled exploration of the seas through scuba diving.
Each year, NABS youth group travel to different parts of the country and learn about marine life. T.J. Bentley, a long-time member of NABS, particularly enjoyed this year's trip.
"We've done more volunteer work this year and more things for the community to help the organization," said Bentley. "We get the chance to do what we want to do."